Sennheiser PC166USB Review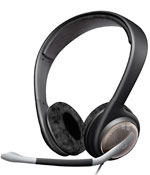 Manufacturer:
Sennheiser
Product:
Pro Gaming / Communications Headset
Platform:
PC/Mac/CD/DVD/MP3
Official Site:
http://www.sennheiser.../500169
Reviewer:
Craig Dudley (Mani)
This isn't the first set of Sennheiser headphones I've reviewed here at gameSlave, and given the great experience I always have with them: I hope it isn't the last. The particular high quality piece of engineering is the updated version of the venerable but slightly expensive PC160 headset I wrote about last year, this time with the inclusion of an optional USB soundcard for extreme portability. The model number drops to PC161 without said inline soundcard, if you're not into LAN gaming and don't need to move your headset between computers often, then the slightly cheaper PC161 would be the way to go.
Right, as ever we need to get the tech specs out of the way. I'm sure they mean something to some of you, though not me for sure. I can however endeavour to tell you how good or bad I think this headset sounds in action.
Technical data
Headphones
Frequency response
15 – 23,000 Hz
Impedance
32 ohms
Sound pressure
118 dB
Cable length
3 m / 10 ft
Connector plug
2 x 3.5mm for PC/Laptop or USB
Microphone
Frequency response
80 - 15000 Hz
Pick-up pattern
Uni-directional
Compatibility
With virtually any sound card

Features
Noise cancelling microphone
USB Sound card - take your sound settings with you
In-line volume control and microphone mute switch
Internet telephony compatible
Microphone rest position
Usable with CD/DVD/MP3 players
Skype certified
Robust microphone for high speech intelligibility
Again this Sennheiser headset is very comfortable, the pads are ever so slightly thicker and softer that it's older brother making it that bit more comfortable, frankly there wasn't an issue with comfort anyway and this headset will not be making your ears hurt after even the longest of gaming sessions, if they fit my big head I'd hazard a guess that they'll fit most people with ease, top marks for comfort.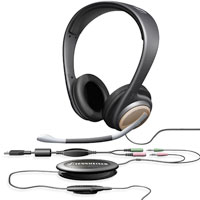 I consistently seem to say that the cables on Sennheiser phones are a little on the thin side and the PC166 is no exception, granted there must be a good reason for the thickness and I've not had a pair die on me yet but cables on other makes of high quality gaming headphones tend to feel a little thicker and more solid, it's a minor point and a clear personal preference perhaps.
Inclusion of cable reel is thoughtful and might be useful for LAN gamers but is really a waste of plastic for everyone else; it's not as if the wires are excessively long.
The included shirt clip is again something which only a minority of users will find useful but it certainly doesn't get in the way very much if at all, it is also detachable but it won't attach to the lower two part cable very well at. I'm nitpicking slightly.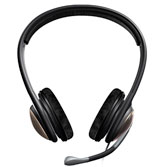 This particular headset uses an open backed design for increased sound quality and imaging, they therefore don't totally isolate you and do leak sound somewhat, this might annoy ones housemates or your spouse (cough) at times but as long as you're not in the same room or playing Metallica at top volume there shouldn't be too much of a problem. If this might be a problem for you, you could perhaps look at the closed back PC156 headset instead.
Sound quality is of course where the buck stops for the PC166, should you spend £30 on a reasonable headset or almost treble that on a headset that could give you the edge in combat, there's nothing like being able to hear your enemy before he hears you. Positional audio does also seem to work better on high quality headsets so not only can you hear the bad guys you can hear where they are, a huge advantage in anyone's book.
As with the PC160 the boom microphone is outstanding and is also Skype certified, whilst I'm not too sure how stringent such certification really is - voice communications and internet telephony work superbly well on the PC166. There are never any complaints from team mates on Ventrilo, Steam or the usually somewhat lower quality TeamSpeak either. Anyone using broadband should experience crystal clear voice communications, or frankly as clear as the codec your communication software is using will allow.


All in all, performance is superb, bass is deep and powerful, and treble is crisp and punchy. Listening to music with them is a pleasure; don't expect miracles out of the box however. Whilst they are very good straight away, I'm sure they've improved greatly over the time I've been using them. I'm reliably informed that's another sign of quality though I could simply be crazy.
The optional USB sound card is also surprisingly good; it's nothing like as high quality as an X-fi soundcard but perfectly acceptable for most occasions. It requires no further installation than simply plugging into a free USB port; Windows simply picks it right up and you're off. Ideal if you want consistent audio performance across multiple differently configured machines or indeed don't have access to all the machines ports easily. This is by no means a unique feature though and many other manufacturers offer headsets with such USB modules.
Build quality is right up to usual Sennheiser standards, apart from the aforementioned slightly thin cables this is yet another very solid piece of engineering that I can't help but recommend.
Summary
The PC166USB headset is essentially an incremental upgrade to the already excellent PC160's (as reviewed and frankly loved here) with the addition of a USB soundcard module. You can get headsets that are usable for less than the roughly £80 you'll need to pay to get a pair of these, but I question whether it's a false economy, if you're at all serious about your PC gaming then you need a quality headset and the Sennhesier PC166USB is exactly that, they'll impress you for every other sound related task on your PC or Mac too, quality doesn't come cheap.
Good stuff
Very comfortable
High quality sound
Outstanding microphone
Excellent build quality
Not so good stuff
Cable still feels a little flimsy
Gamers on a budget should look elsewhere

More about Sennheiser
||
Comments!