Sennheiser PC160 Review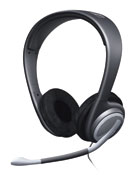 Sennheiser audio equipment is well known for it's quality and performance and indeed their headphones are almost legendary. It's therefore a little odd, that I haven't tried too many pairs before given my penchant for sound quality whilst gaming. After all, hearing an opponent first is vital in so many games it's untrue.
Let's get the boring stuff out of the way, the following are the technical specifications and the manufacturers features and benefits from the product data sheet. I won't pretend to fully understand most of it but I do hope to try and tell you what it means for your gaming experience over the rest of the page.
Technical data
Headphones
Frequency response
15 – 23,000 Hz
Impedance
16 ohms
Sound pressure
114 dB
Cable length
3 m / 10 ft
Connector plug
2 x 3.5mm for PC/Laptop
Microphone
Frequency response
80 Hz – 15,000 Hz
Pick-up pattern
Uni-directional
Sensitivity
-38 dB
Impedance
~2 k ohms
Compatibility
With virtually any sound card

Features
Adjustable headband for perfect fitting
Adjustable, bendable and pivotable microphone makes the voice more clear and increases comfort and flexibility
The noise-canceling microphone provides for high speech-clarity and voice recognition by filtering out the noise around you
With the in-line volume control and the microphone mute switch you can keep sound at the right level or have a side conversation in privacy
Equipped with a single-sided extra thick cable for maximum robustness
Headsets for competitive gaming will quite often be worn for extended period in high pressure environments, I'm not ashamed to admit that I sometimes my head sweats a little in these situations, especially in summer. It's therefore great news that both the super soft and comfortable velour ear pads and the leather effect head band cushion can be replaced should the need arise. Build quality certainly seems to be very high and that really helps to bring home why replacements parts are such a great idea, you wouldn't want to replace a whole headset if the ear pads got grubby would you? Especially if that Headset still worked great otherwise. High quality plus the ability to replace parts that get worn mean that you will likely have this headset for a very long time should you pick some up. The impact of the PC-160's being slightly on the expensive side is somewhat lessened by that fact.
Comfort is also very high as I already alluded to, the ear pads in particular are very soft indeed. As expected the headband is also adjustable to such an extent that it fits even my enormous head. The last hat I rented for a wedding had to be fetched from a dusty old box on the top shelf, 7 5/8 (UK) I think the hat size was, pretty damn big anyway (and yes I did get a lot of stick whilst wearing it). Suffice to say, that if the PC-160's fit my head with plenty of spare room on the side adjusters they will probably fit anyone and still be comfortable.
It's no use headphones being comfortable if they sound like crap, fortunately this Sennheiser kit has that cracked too, they sound absolutely superb. Granted I'm a little spoiled by having a Sound Blaster X-Fi to run them from but they are significantly better than the pair of 5.1 headphones I had been using until these arrived, even at positional recognition, they seem far more accurate. Granted that's going to be partly down to the X-Fi and it's much vaunted headphone modes, but it has still greatly impressed me. One of the features of this headset is apparently a "unique 3D, 360 degree sound" ability but I'm not sure how much effect this has had, I think I'd have to compare another set of Sennheiser headphones that don't have this feature to be sure and I apologise that I didn't have another set at hand. In combination with this sound card though, 3D positional audio is great.
All sounds are reproduced with great accuracy, but what really sticks in my mind is the incredible bass, anyone who's heard Battlefield 2 on an X-Fi at ultra sound quality will know how good it sounds, but these headphones take it to the next level, you can actually feel the planes flying over and artillery shells exploding, while this is all going on you can still hear team mates talking on comms with little or no distortion, this is where the PC-160's really shine in my opinion and of course is exactly what makes them so good for pro-gaming. The microphone I'm not in the best position to judge, but what I would add is that I've asked just about every member of gameSlave's teams I've spoken to on both TeamSpeak 2 and Ventrilo over the last couple of weeks how I sounded, all report a definite improvement in clarity and tone. I have however, also recorded my own voice using the mic and actually think it sounded a bit more like me than usual, if that makes any sense at all, it will to some no doubt.
Although it's an obvious and somewhat common feature on Hi-Fi headphones, being able to adjust volume and mute the microphone via a handy control on the cable also saves a lot of hassle. Having to drop the console, load a menu or even alt-tab back to the desktop to do that is seriously backward in this day and age and all gaming headset makers should add this to their products if they haven't already.
I do have a couple of mini niggles however, a "single-sided extra thick cable" is quoted on the packaging and PR materials but in my opinion it's just not thick enough, it feels a little flimsy to me and I would have preferred it to be much thicker. The only other slight negative is price, in the U.K. your going to be looking at a cost of something like £70 to £90 per pair. That's not cheap, but they are very well made and will no doubt last a long time.
Summary
Many a wise person has used the phrase "You get what you pay for", in this instance it's extremely apt, the Sennhesier PC-160 headset is truly excellent in my opinion and but for a couple of very minor niggles are as near perfect for their task as I could imagine. They are comfortable for extended periods of time, sound fantastic while gaming, are fine for listening to music and have a high quality microphone. At 10 feet, cable length is also great but I would have preferred the cable to be a bit thicker and heavier and perhaps for the headset to be ever so slightly cheaper, however they are worth every penny if you can afford them. Definitely the best gaming headphones I've ever used and if we gave out awards this headset would have won an Editor's Choice or something similar.
Good stuff
High quality sound
Impressive bass reproduction
Great microphone
Very well made
Replacement parts available
Long cable
Not so good stuff
A little expensive, but worth it
A thicker cable would have been nice