Razer Destructor Review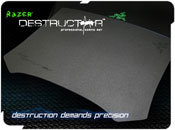 It's only been a few weeks since I reviewed my first hybrid style mouse surface, the excellent SteelSeries SP. And like buses it's obvious that no sooner had one such high quality gaming surface come along, another one was sure to appear. This time we have the quite similar Razer Destructor, again it's a hybrid style of mat with a hard surface and the same type of soft rubber non-slip backing you'd usually find on a decent quality cloth mouse mat. In many ways you could simply read the SteelSeries SP review and most of it will also hold true of this surface so I'll simply skim over the usual background information try to cover the differences here.
Razer Fractal™ surface for high-precision gameplay
Optimized for both optical and laser gaming-grade mice
Ultra-wide size ideal for continuous, rapid swipes: 350mm (length) x 280mm (width) x 2.3mm (height)
Non-slip rubber base for firm grip on smooth surfaces
Includes a premium lightweight protective case



The Destructor is a medium to large sized mat, pretty much the same size as the SP but isn't quite as uniform in shape as it has the trademark Razer cut-out front, the hard portion of the pad is somewhat thinner than the SP and therefore isn't quite as rigid; quite irrelevant when in use though. The rubberised backing is again almost identical though and the surface never slips around.
The thinner Destructor would perhaps be a little more likely to bend and break in transit but Razer has covered that option by providing a very cool and quite tough carry case, useless for the likes of me though as I never take my mouse pad anywhere; yes I take it for granted, shame on me.
The surface of the Razer Destructor itself has a very fine texture, a bit smoother than the SP and as such is exceptionally comfortable to use, it is however thinner and doesn't have quite as much give. Glide characteristics are also extremely similar although the smoother Destructor does create less noise as the mouse moves across its surface. As with most hard mouse surface friction is quite low and some lighter mice can be a little difficult to control properly.



Gamers who play first person shooters are obviously the target market for a mouse surface like this; accurate and consistent movement are key and you get both in spades with the Razer Destructor. Who can really tell whether the quoted 37% performance improvement over other professional gaming surfaces is true or not, all I can tell you is that is does track amazingly well but so does its direct competition. The less serious gamer may not want to stump up £30 on a quality mouse surface like this but those that do will not be disappointed, graphics professionals might be another potential target market for such a surface though.
I've found no issues with numerous mice whilst using the Destructor, quite the opposite indeed; the usual Logitech, Razer and Microsoft optical beasties have all been taken for a spin and not a single glitch noticed. I really am impressed with the latest generation of gaming gear; it seems manufacturers are now actually creating products that gamers want rather than just putting a badge on some average stuff we could have bought years ago.
Build quality is good but then it's a relatively simple item so you wouldn't expect it to ever fall apart, it is however very durable after well over a month's heavy usage there's no sign whatsoever of any of the texture being ground down at all, a problem that plagued many early harder mouse surfaces. The Razer Destructor must therefore join the SteelSeries SP in the category of mouse pads that might well last forever.
Summary
The Razer Destructor is an excellent mouse surface and every bit the equal of the brilliant SteelSeries SP, the carry case gives it the edge but it does cost ever so slightly more at around £30 which for me means we have a dead heat. If you want the cool case, then the Razer should be your first choice though. If you don't then it's a tough decision.
Good stuff
Tracking is second to none
Very cool case
Easy clean
Very durable
Good size
Not so good stuff
Slightly expensive
Case is of little use unless you move around a lot with your mouse and it's pad.

More about Razer
||
Comments!