SteelSeries SP Review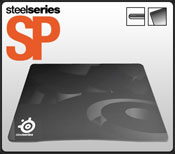 Hard mouse surfaces are a bit of an acquired taste I'll admit, they can be somewhat skiddy and indeed uncomfortable to use. You can most definitely get used to the lack of friction though, and if you want fast, fluent and predictable mouse movement as any serious gamer would then a harder mouse surface can be a good choice. The comfort of a rubber backed cloth pad is usually what you lose when making that choice.
The SteelSeries SP tries to rectify that dilemma by giving you the best of both worlds; a hard, durable surface that has excellent glide capabilities with the same type of rubber back you'd normally find on the better cloth pads. A hybrid if you will. I have to say that it works rather well.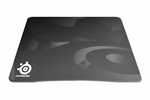 The addition of the rubber back give the SP a certain amount of give, making it really quite comfortable for extended periods of use, the first hard mouse surface I've ever used that doesn't make the base of my wrist ache after a while. Having a hard and durable surface also has major benefits for cleaning and longevity; a quick wipe with a damp cloth now and again is all that's needed to restore the SP to pristine condition, though sometimes a finger nail to get out those ground in bits of dead skin that build up over time, yuck. That won't harm the surface though; I think you'd have to use a wire brush to accomplish that.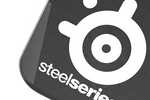 Glide characteristics are what makes any mouse surface, whilst the SP has much less friction that your average cloth pad and therefore your mouse will move quicker, there is a definite texture to the surface that stops things getting too fast for me, some might need to lower the sensitivity of their mouse driver to get the most out of the SP. You'd be surprised how many top gamers use a low sensitivity mouse setting on a very fast accurate mouse surface; it's probably the best way to give both very small and accurate movements and high speed movement when needed.
Testing over the last few months hasn't turned up any real surprises, I expected the SP to perform as well as or better than the other SteelSeries products and some of the competition I've used recently and it does. Many hours of Battlefield 2142, TF2 and more recently Frontlines: Fuel of War has only gone to further impress me. I've thrown quite a few mice at it too, mostly a Razer DeathAdder (which has now unfortunately met its own death) and a Logitech G5 but also an older Microsoft IntelliMouse Explorer 3.0 along with a few generic optical mice and as yet haven't had any real issues. The lighter mice can be a little more difficult to control but that's an issue all hard surfaces have however and no direct criticism.
I do also spend a lot of time playing strategy title these days too; here speed and accuracy are not quite so important but it does still matter. Again the SP's surface allows your mouse to perform right up-to its potential.
There's no doubt that this sort of performance gaming gear is usually aimed at gamers who mostly play first person shooters. This is where high speed movement with ultimate control are necessary to succeed at the highest level, whilst I don't take my gaming quite so serious these days I still demand that my equipment doesn't let me down that's why I never mind paying a little bit more for something that won't. At around £25 the SP certainly isn't cheap but does compare reasonably well with most of the competition and is frankly better than the vast majority of it.
Summary
Until the SP arrived for review I'd pretty much given up on hard mouse surfaces and gone back to cloth mats, the lack of comfort really is a killer when you both work and play on your PC. The SP clears that hurdle with its rubber base and I feel I get some of the best features from both types of pad. The SteelSeries SP is a great product that comes highly recommended, it might be a little expensive for some but it's likely to last forever, or at least as long as mice are still used as computer input devices.
Good stuff
Excellent glide characteristics
Feels strangely soft and comfortable
Easy clean
Very durable
Good size
Not so good stuff
Slightly expensive
Hard surfaces are not for everyone

More about SteelSeries
||
Comments!