King of Fighters XII Review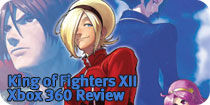 Content is a little thin on the ground in the single player mode. The arcade mode can be completed in under half an hour with practically any character, and there's no plot or even an end boss to try your wits against, which is a great shame, as well as downright odd.

More about King of Fighters XII
Why not register and have your say?