King of Fighters XII Review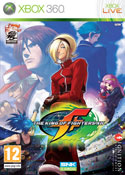 Developer:
SNK Playmore
Publisher:
Ignition Entertainment
Genre:
Fighting
Platform:
Xbox 360
Official Site:
http://www.kingoffighters12.com/
Release Date:
September 25th, 2009 (UK)
Reviewer:
Andy Hemphill (Bandit)
I never was one for 'Japanese-style' fighting games, so when King of Fighters dropped onto my doormat I was a little nonplussed by its 'busy' box art and promises of 'thrilling action'.
Seeing as this is the 12th game in the series, I delved back into the annals of gaming history to find out a bit more about the series, which seems to have a fine history, with a few missteps along the way- King of Fighters 12 (KOF) has a lot to live up to.
Sadly it falls short of gaming greatness.
With the usual lack of plot endemic in fighting games, let's dive straight into the meat of the game - bludgeoning the enemy into the ground as fast as possible - in this aim the game works pretty well.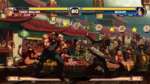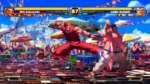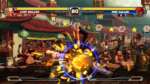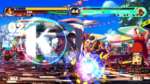 The roster of characters ranges from your big, meaty guys to your stereotypical variety of skimpily dressed schoolgirls you often get with Japanese brawlers. There are, however, slightly fewer characters than a KOF-fan might expect, and a couple of the major names, including the iconic Mai Shiranui, are missing from the line-up.
Graphically the game has had an overhaul since its last iteration, and the sprites are colourful and bright, with no on-screen lag and some wonderfully animated backgrounds, which can be quite distracting at times.
The fighters themselves are also nicely animated, each swing and kick producing a decent movement on the screen, all executed with KOF's trademark speed.
The airborne combos are particularly fun to watch, with the characters spooling into the sky to exchange blows. Another standout is the special attacks, which produce a riot of colour on the screen, often obscuring the fight itself in their energy.
The fighting is balanced and pretty straightforward, playing like Street Fighter or any of the other KOF games, so nothing new there.
And that's the problem really- there's nothing new here.
Despite its shiny new look, KOF 12 feels a little like a beta test for KOF 13 (which will no doubt come into being sooner, rather than later).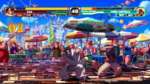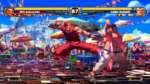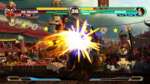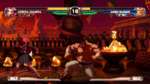 Content is a little thin on the ground in the single player mode. The arcade mode can be completed in under half an hour with practically any character, and there's no plot or even an end boss to try your wits against, which is a great shame, as well as downright odd.
The survival mode is also conspicuously absent and the practice mode doesn't really make up for the lack of the survival mode's difficulty.
Speaking of difficulty, even on hard mode the main arcade game can be completed fairly easily, and that's coming from someone who is far from a pro with KOF's complicated controls (which are, coincidentally, quite easy to learn thanks to a comprehensive controls listing system).
The previous KOF game's challenge and story modes are also missing, which is a shame as I'd have liked to learn a little bit more about the outlandish, leggy blonde I've just been using to beat the half-naked-sumo-man to death a couple of minutes ago.
The versus mode is, however, included in the box. It's ideal for when you've got a few mates round, when the fast pace of the game and the competitive edge the action inspires can lead to quite a bit of fun.
The problems continue with KOF 12 online however. The play is terribly laggy (never good in a fighting game) and the lobby area is pretty badly implemented. There is no way to tell who has the best connection, and I often found myself stuck in spectator mode with no way of getting out and playing my own game.
This is a major flaw, as I was quite taken with the game's speed and flashy characters and combinations, and I would have liked to take them online and whoop some noob in America with my trademark double back flip somersault followed by a flying roundhouse, but the poor online experience was a bit of a let down.
Summary
KOF 12 is a game which feels unfinished. It seems odd that a game with such a fine pedigree is missing so much of what its predecessors did right. Without the survival, challenge and story mode in with the package there isn't much for a committed KOF fan, or even a noob like me, to get your teeth into. A lacklustre multiplayer experience is also a shame, as the carefully drawn 2D graphics and fast-paced, colourful action is sadly wasted. Luckily, as there's sure to be another KOF right around the corner, KOF 12 could probably be counted as little more than a bump in the road.
Good stuff
Shiny graphics
Balanced gameplay
Good versus mode
Not so good stuff
Laggy, poor multiplayer
Several missing modes
Feels unfinished

More about King of Fighters XII
||
Comments!