SteelSeries SP Review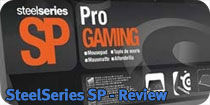 Whilst I don't take my gaming quite so serious these days I still demand that my equipment doesn't let me down that's why I never mind paying a little bit more for something that won't. At around £25 the SP certainly isn't cheap but does compare reasonably well with most of the competition and is frankly better than the vast majority of it.

More about SteelSeries
Why not register and have your say?