SteelSound 4H Review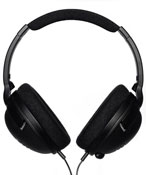 After a chase worthy of an epic 3-part movie spanning continents, I caught up with the new SteelSound 4H headphone, the simplified version of the enormously popular 5H series that still defines the affordable entry point for professional gaming equipment. Really sharp headphones fitted with a boom microphone obviously lend themselves to one particular genre of gaming, which is of course the First Person Shooter. Strategy games rarely require acute directional hearing, or the ability to immediately communicate firing positions or yell warnings. With this in mind the 5H series was designed with the fastest possible reaction times, a good sense of directional sound, and maximizing punchy sounds in the frequency most commonly produced in a Counter-Strike game. These design features coupled with giant padded retro headphone cans for comfort under prolonged use made the 5H king of the hill with gamers unwilling or unable to shell out three figures for a set of high-end Technics. The 3H and 4H version have been designed with the rest of the gaming community in mind - the ones who might quite like listening to music, whose self esteem is not measured by the frag, and wouldn't even want to be able to tell what color a bullet being fired on the opposite side of the map was just by the impact noise it made.
Technically, the 4H is a simplified version of the 5H and as such the following specs are more or less identical;
Technical data
Headphones
Frequency response
16 – 28.000 Hz
Impedance
40 ohms
Sound pressure
@1kHZ 1Vrms: 110dB
Cable length
1.8 meters (6 feet)
Microphone
Frequency response
75 Hz – 16.000 Hz
Pick-up pattern
Uni-directional
Sensitivity
-38 dB
Impedance
~2 k ohms

Features
Lightweight gaming headset with XL-sized earcushions
Developed in cooperation with professional gamers
Retractable uni-directional microphone system
Volume control, featuring 3 microphone settings
Full-size earcups for maximum individual comfort
Strong and deep resonating in-game sound projection
40mm SteelSound SunDancer(Sd) Units
Probably the first thing any gamer will notice about the SteelSound series is the size. They are huge, worthy of the nickname 'cans' and feel like they should come with a free brown corduroy jacket patched at the elbows and The Carpenters on vinyl so retro is their styling. Additional friends I tested the styling on claimed to feel like the 118118 brothers or an extra from Logan's Run when the boom mike was lowered, but there is method to this apparent leap back through time. Most headphones that claim to be gaming grade will actually do precious little to offer prolonged use comfort, and even the most generous of stretchy foam covering across an earpiece will likely leave your lugs sore after marathon sessions. Individually articulated and attached to a fully adjustable headstrap, the plush padding snuggles around your ear comfortably, which as it turns out will not only allow for prolonged use, but will actually keep you ear warm in those cold eastern European cyber cafes. More on that later.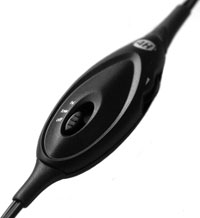 The 4H mark has been tweaked to be kind to a wider range of frequencies, not just the punch and bark of the team FPS gunfire and tactical chatter. Normal human speech, music, and non-ballistic sound effects get a significantly more kindly treatment. Some users have suggested this comes at the expense of the pin-sharp directional accuracy of the 5H, but since the 4H is for more rounded gameplay, this should not be a problem.
I've been thinking that perhaps I should claim that due to the retro styling of the set, I embarked on a quest to try and live the great multiplayer gaming moments of yesteryear, recapturing the glory days of your first blush with Counter-Strike, and that first genius victory at Command & Conquer. That wouldn't really be true, with the truth being closer to my usually trusty Hewlett Packard laptop suddenly turning to gibberish and pigshit in the middle of the Christmas holidays in Hungary.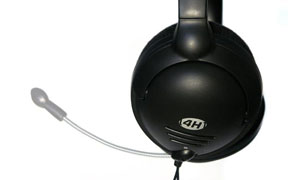 Finding an open high spec LAN gaming center? Impossible. Finding an open internet cafe? Nope. Finding a gypsy run hole in the wall with six beaten machines probably lifted from an aid-to-Africa shipment? Oh yes.
If you could all somehow see the great mime dance the was required to get the 4 unfathomably bored patrons of said establishment to join in a series of LAN games to test the hardware I'm sure it would quickly become the YouTube champion of all time, but it eventually happened. If anything, however, the language barrier actually went to show off how well the SteelSound communication system actually communicates, with tone of voice and frequency of shouting usually giving teammates a good idea of what was going on. Immortal shall be my battle-cry as I charged into the international fray, guns a blazing, of 'Krumpli!' Which, as we all know, means 'potato' in Hungarian. I haven't really picked up much of the language yet.
Proven in LAN gaming, the SteelSounds also turned out to be highly competent when using an iPod or the TV. The only respect that they seem to be a step down from their bigger brother the 5H is in exclusion of external sounds, which in a street or even in a busy gaming room let in more ambient noise than you expect from cans of their quality and capacity. This perhaps suggests them to be better suited for internet gaming rather than a LAN party, and even though they come with natty external controls, you do have to tweak them up louder than you might prefer to drown out ambient sounds. The microphone itself is very pleasingly designed, with a plastic protected head for those with spitting problems, and the ability to recess right the way into the body of the headphone itself, and so prevent you looking like a lunatic if you want to just wear them out with your walkman.
Summary
At just under £40 the SteelSound 4H are only about half of the price of the latest SteelSound 5H incarnation, and with such solid performance that they will likely be a better choice for all but the most dedicated FPS fanatic. The literature that fell out of the box upon opening and I rightly never paid any attention to again repeatedly boasts that they have been designed by pro gamers for pro gamers, but the truth of the matter is they are just very well designed in general. Soft, comfortable padding with rich base notes and crispy treble, the 4H are good for all games, if a bit lacking in ambient sound insulation. Didn't get what you wanted for Christmas? Treat yourself now.
Good stuff
Rich base notes and crispy treble
Very comfortable
Solid all round sound reproduction
Excellent value for money
Not so good stuff
Could do with slightly better ambient sound insulation
Directional accuracy not quite up to the standard of the 5H
Big, get the 3H if you need mobility

More about SteelSeries
||
Comments!