SteelSeries Xai Review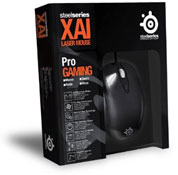 It's more than a decade since the first gaming focused mice appeared on the market. In that time things have inevitably changed greatly. At that time I wouldn't have used anything other than a Microsoft Intellimouse, the shiny white plastic one, which incidentally wasn't even designed as a gaming product. Even the first optical sensors couldn't get me to change, it took the second generation optical Intellimouse to wake me up to the potential of the technology. Not having to scrape skin and hair off the rollers was just a bonus.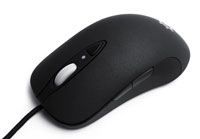 Fast-forward more years than I care to remember and there are more 'gaming' mice on the market than chocolates in the local sweet shop, most of them stuffed full of 'features' like crazy lighting, weighting systems, loads of buttons, the latest 5,000 dpi laser sensor and several ways to record and assign multi-stage macros to any of those buttons. SteelSeries have taken the view that most of this is completely superfluous and focused on core design and function, it shows.
The Xai is a fairly unassuming little thing, a seemingly small to medium sized, black and ambidextrous design that's extremely similar to some early mouse designs; hence the bizarre and totally unplanned history lesson, lefties and minimalists will most likely be pleased. Anyway, let's have a look at the technical specs and see what the Xai brings to the table.
Technical data
SteelSeries Xai features a state of the art laser sensor with 10.8 megapixels HD image correlation at up to 12,000 frames per second, enabling stable tracking in movements of up to 150 inches per second with a maximum acceleration of 30G and scalable pointer speeds of up to 5,001 counts per inch in increments of 1. The lift-distance of the SteelSeries Xai is automatically adjusted to ~1mm as it is used over different surfaces. The most important thing that all those numbers really reflect: consistent performance, that won't stall or give up during use.
7 programmable macro buttons + 1 CPI-toggle button
Up to 200 keystrokes per button macro
Driverless plug-and-play, with 5 profiles
Fully configurable via LCD menu system (128 x 32 pixels)
100 to 5,001 counts per inch
150 IPS, up to 12,000 FPS, 30G max acceleration
Automatically-adjusting lift distance of around 1mm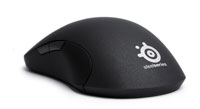 As we can see there's no figure for DPI (Dots per Inch), SteelSeries simply don't use it, but let's try putting some of those numbers into perspective. SteelSeries claim 'stable tracking in movements of up to 150 inches per second' If I'm not mistaken that's 12.5 feet, can anyone move a mouse that far in 1 second? You'd need a desk that's probably three times longer than an average office desk and unfeasibly long arms to even try! Is there really any point in being that sensitive? I'll let other people argue about that in the media but let me say this, if you set the Xai to its maximum sensitivity and USB reporting rate and try and use it in windows you'll be in for a shock, even with the windows drivers set to minimum a tiny shift of the wrist will send the pointer careering across the screen at frightening speeds. It does however demonstrate quite how good the sensor is, and surely that will help even at lower speeds with increased accuracy, to a point anyway.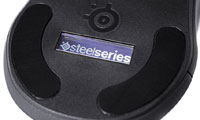 However, the Xai does have a dual CPI setting via a small button just beneath the wheel, pressed and with the small indicator LED lit up you'll be using the lower of the two stored CPI settings which you can perhaps use in Windows or for more control when scoped and sniping for instance. While some other mice do have the ability to set more sensitivity settings directly on the mouse, two is probably going to be enough for pretty much everyone. And quite frankly even at a lower sensitivity settings, the mouse tracks supremely well, just like many of its competitors in this space it's pretty much faultless on every surface I tested it on.
The Xai doesn't require any drivers to be installed and instead does all its processing is done on the mouse itself, but the bundled software does include tools to allow you to modify various settings used by the onboard processor
These tools include, ExactSense; allows you to configure the two CPI settings your mouse can use. ExactAim; control jitter correction, or how much the mouse will try to smooth out your mouse movements. FreeMove; how much path correction to employ, seems similar to jitter correction in many ways. And finally ExactRate which allows you to set any sampling rate from 125hz all the way up to 1000hz, SteelSeries recommend trying to set this to a figure that is divisible by your displays refresh rate, as most flat panel displays are 60hz these days I've set mine to 600hz but you could use anything from 180hz to 960hz.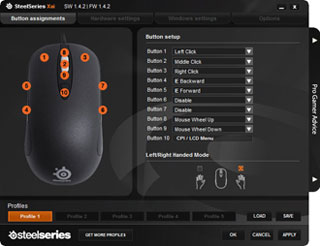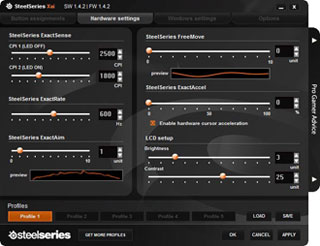 You can also swap between the stored profiles on your mouse, of which you can have up to five. There are even a few from various high profile games on the SteelSeries site that you can download and try. I'll even let you have mine if you ask nicely, can't see why you would though. Macros can also be recorded and assigned to all but the CPI toggle button, the interface for this seems fairly straight forward but I can't really comment as it's a feature I never, ever use.
Once you've got the Xai configured to your personal taste, which can take quite some time, its performance is impressive. It never skips a beat or misses a button press and doesn't register movement when the mouse is off the surface. If like me you are constantly lifting the mouse and repositioning it slightly this is a huge help. It's great to be able to forget about your mouse and any deficiencies it might have and just play.
Comfort is about the only other thing that really matters with a mouse, and the SteelSeries designers haven't forgotten about that either, the Xai has a fine rubber coating just like preview SteelSeries mice, and it's works very well; even when slightly damp it won't slip around in your hand. Of course you might think that the ambidextrous design would make it less comfortable but it doesn't at all. After a few days of acclimatisation it feels entirely natural, something which I'm not sure these massively sculpted and so called ergonomic mice ever do, though perhaps that's just personal taste.
One minor gripe for me is that I can't seem to make the small LCD menu system work at all, you are allegedly supposed to be able to see which profile is active and other such things using the LCD but I can't make mine show anything other than a Steel Series logo. I can't find any instructions either.
Summary
Performance is just not an issue with this mouse, should this review only take into account how the mouse performs then a perfect ten was a distinct possibility. That however is not the case and price is a big factor in our review scores, and at around £60/$90 this is the Xai's Achilles heel for all but the most hardcore of gamers; who are of course the target audience for this mouse anyway. If you want the best and are willing to pay for it, then the Xai should definitely be on the shortlist for your next mouse, perhaps even at the top if it.
Mere mortals should perhaps look elsewhere and save some money; SteelSeries themselves have a number of other offerings that may better suit your needs.
Good stuff
Very comfortable to hold
Stunning performance
Good build quality
Ambidextrous
No useless, superfluous features
Not so good stuff
Expensive for the average gamer
Can be quite tricky to tweak to your taste

More about SteelSeries
||
Comments!