SteelPad QcK Mini Review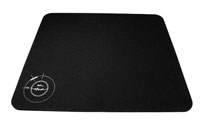 Ask most PC users what the most valued part of their PC set-up is, and few will name the humble mouse pad. Yet us gamers know that computer graphical power alone does not make a perfect gaming experience. Reactive controls and a smooth game-play ride contribute as much, if not more, to enjoying games as much as your trusty GPU. If you're finding yourself battling your mouse more than the enemy, and communicating at the heavens in frustration more than with your computer, you could do worse than look into upgrading your mouse pad.
SteelSeries claim to make professional gaming gear, and the SteelPad has been a staple of this line-up since 2001. Whilst the original was indeed hard steel, the pad I'm reviewing today is the SteelPad QcK Mini, a cloth pad.

First impressions are important, and the pad arrives in a tubular box, with the pad tucked inside, rolled into a tube. Initially I was worried that there would be creases, or the pad would curl up once unrolled. I needn't of worried as once the pad is flat it's incredibly smooth and solid - you wouldn't know it had been shipped as a tube. The QcK series of pads comes in an array of sizes, from huge to small. The QcK Mini which I received was 250mm x 210mm in dimension, which for those of you who can't visualise, is roughly the size of the standard rectangular mouse pad you'll see for sale in every computer shop in the world. You know, the ones with pictures of your favourite TV show on. This was the perfect size for my small desk.
The SteelPad is completely black with the SteelSeries logo positioned unobtrusively in the bottom corner. It certainly looks the business. A problem I've found with pads in the past is their tendency to shift around on the desk during prolonged periods of gaming. The SteelPad QcK has a specially designed non-slip rubber base which prevents the pad from sliding. Sceptical at first I can testify after some solid game testing that this pad will not move. Seriously, when they say non-slip, they mean it. The SteelPad QcK stays firmly anchored to your desk at all times. Combine this with a thickness of only 2mm, and the SteelPad starts to feel less like a mouse pad, and more like an comfy extension of your desk.
Furthermore, despite only being 2mm thick, the fine soft cloth on the pad surface is genuinely comfortable on the wrist and hand - even after hours of gaming. This is something I really appreciated as my cheap Ikea desk is exactly that - cheap and nasty on my sensitive writer's palms. The cloth is clearly is top-quality material, and is definitely suitable for all sort of prolonged mouse-work.
Of course the real proof of a pad is how a mouse runs across it, and the SteelPad doesn't disappoint on this front either. My trusty Microsoft Optical IntelliMouse moved across the cloth with ease, yet with just enough friction to keep you from sliding about uncontrollably. There was also no pausing, or catching of the mouse at all during my game-play, at any sensitivity. I play-tested the pad in Counterstrike, FarCry and Battlefield 2 - all action intensive FPS that rely on quick reactions and aim. Not once did I die due to an unresponsive mouse, and indeed I continued my customary domination of all three titles. Whipping out my old track-ball mouse produced similar results. Taking the mouse into Photoshop also impressed. I decided to give it a real work out and started making some vector drawings, followed by very tight pixel art. Again, the pad excelled across the board. The slightest movement of my wrist produced a corresponding fractional movement on the screen, allowing for stress-free work.
Summary
The SteelPad QcK is without a doubt the finest mouse pad I've ever used. Perhaps the biggest compliment I can give it is that I started to forget it was there as I was gaming. More and more it began to feel like a comfy, smooth and responsive area of my desk, never once getting in my way. The SteelPad QcK Mini is available on the SteelSeries website for EUR 6.95. That's just under £5! I really can't recommend this pad enough. For the price it's being sold at, there's absolutely no reason why any gamer should be stuck with poor mouse control. The only flaw I can think of is the size. However if you're into bigger pads there are two larger sizes to choose from too (the biggest is 450 x 400mm). SteelSeries lives up to their claim - this is top-quality professional gaming gear
Good stuff
Perfect control and tracking
Smooth and comfortable on the wrist
Amazing non-slip properties
Thin
Bargain price
Not so good stuff
Size might not be to your taste