Sennheiser PC350 Review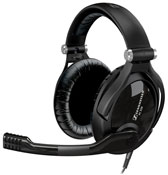 It's been a little while since we wrote about any gaming hardware, even longer since we reviewed a headset. This PC350 headset is however not the first piece of Sennheiser kit we've had the pleasure of testing, this particular headset I've been rather attached to for quite some time now.
As usual with these reviews, I'd like to get the technical spec and features out of the way before trying to talk about how the headset actually performs.
Technical data
Headphones
Headphone Type
Circumaural, closed
Speaker Type
Dynamic, 38 mm, Nd magnet
Frequency Response
10 Hz – 26,000 HZ
Impedance
150 Ohms
Sensitivity
108 dB
Microphone
Pick-up Pattern
Noise Cancelling
Frequency Response
50 Hz . 16,000 Hz
Sensitivity
-38 dB at 94 dB
Cable Length
3 m
Connectors
Two 1/8" 3.5 mm plugs

Features
The PC 350 headset is a circumaural, closed type headset that shuts out disturbing noises from your environment.

The special shaping of the frequency response is optimized for binaural perception, improving your ability to detect where a sound comes from.

Sound perception is so precise you literally feel you're in the game.
Optimized for Binaural Perception
Passive attenuation of up to 32 dB
Patented Duofol Diaphragm technology
Adaptive baffle damping
Collapsible for easy transport
Volume Control with microphone mute
Connects to virtually any PC sound card
Being designed for long session of gaming, specifically first person shooters most likely, the headset needs to be very comfortable, and they definitely are. The oversized cups easily cover the ears and the ultra-soft padding cushions them onto your head beautifully holding them firmly in place without putting too much pressure on. I do occasionally wear glasses and even then they fit great, I doubt anyone would have reason to complain about how the PC350 headset fits.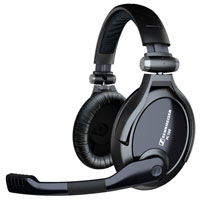 Each earphone cup also has a hinge slightly above its mounting to allow it to rotate to a flat position that's parallel with the head rest, this clearly makes them less likely to get damaged during transport, anyone who attends LAN parties and other events will find this feature to their liking. You don't want to pay a lot of money for a headset only for a cup to snap of its mounting after all.
The microphone boom is also pretty solid at both ends with a thick rubberised middle section that allows some positioning but doesn't look likely to break in any way; this also rotates up and out of the way when not in use.
My biggest issue with every other Sennheiser headset I've ever reviewed in the past has been the cables; they've always seemed to be a little on the flimsy side. That is most certainly not the case here, the PC350's cable is thicker than ever before and feels very solid, as well as being a full 3 metres long. The in-line volume control is of the usual high standard and also features a microphone on/off switch as well as a clip for attaching it to your clothes or indeed something else if you see fit.
Now if you are going to pay a lot of money for a headset, it had better perform well in games, in fact it has better perform where it matters and that's being able to figure out where a sound has come from, where that footstep came from in Call of Duty or where that reload sound came from in Counter-Strike. No-one who would even consider buying a pair of these would underestimate how important that was, the PC350's will definitely not let you down and to be honest may well give you that tiny edge that's so vital in competitive gaming. I've certainly never used a headset that's better with positional audio and I've used quite a few from all the top manufacturers.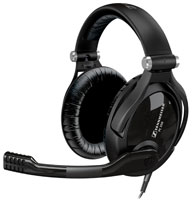 Whilst we are talking about money, the Sennhesier PC350 headset does have a recommended retail price of around £150 but you can get them for under £80 if you shop around, they are certainly not cheap but frankly if you want quality like this, you are going to have to pay for it.
Sennheiser do have a historic reputation for making extremely high quality microphones and the PC350 will not do that reputation any harm at all. Whatever you throw at it works well; Skype, Teamspeak and in particular the higher quality Ventrilo servers work great, voices are crisp and clear, bandwidth allowing of course. Adn we all know that using a cheap and nasty microphone during a competitive game can really disadvantage your team; nobody wants a teammate who sounds like metal Mickey and is hard to understand.
As already noted, these headphones are specifically designed to help in games but this optimisation does of course have slight drawbacks elsewhere, it can take some fiddling around with sound card settings to make music sound as good as you might expect from such a high quality headset.
There are perhaps several reasons for this, not least of those is the fact that they are such high quality that they'll pick up any problems in lower quality recordings, forget listening to 128kbps MP3's with the PC350's unless you have sound card like a Creative X-fi that can pre-process the music. Though nobody listens to such low quality recordings with such good headphones do they? Well, hopefully not anyway. I'd recommend 320kbps MP3's or FLAC recordings if you want to hear the music close to how it was intended on a computer.
That brings me neatly onto the next potential issue with this headset, don't expect them to be as good as they can be with lesser on-board sound cards; you are going to need to pair this headset with sound card that can provide the high quality output they require.
It also seemed to me that they definitely improved over the first month or two of use, though that may well be entirely subjective.
Summary
I've never used a better headset, the PC350 from Sennheiser is about as fit for purpose as I can imagine right now. Even at the rrp of around 150 pounds it is potentially worth considering but as you can pick up this headset for under 80 it's pretty much a no-brainer. Providing that is, you are looking for a headset for serious gaming whether it be competitive or not.
Good stuff
Very comfortable
Easily and safely transportable
Stunning gaming sound performance
Great for music after a few tweaks
Not so good stuff
No more than a luxury for less serious gamers
You'll need a good soundcard to get the best out if it

More about Sennheiser
||
Comments!