Razer Lycosa Review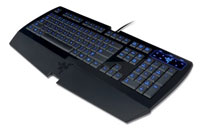 Manufacturer:
Razer
Product:
Razer Lycosa Keybaord
Platform:
PC and Mac
Official Site:
http://www.razerzone.com/..
Reviewer:
Craig Dudley (Mani)
A keyboard isn't something I'd normally think about reviewing, but as more and more gaming peripheral manufacturers bring out keyboards targeted directly at PC gamers like you and me I thought that it was perhaps time to change my mind. Frankly it's taken me quite some time get round to actually writing the review as I've been using this Razer Lycosa keyboard for quite a while now, yes I know I suck but thankfully the keyboard does not, it's also grown on me with time.
As ever, let's get the official features and specifications list out of the way:
Keytop with non-slip rubber finish
Backlight illumination with WASD cluster lighting option
Fully-programmable keys with macro capability
Gaming cluster with anti-ghosting capability
Slim keycap structure with Hyperesponse™ technology
TouchPanel™ easy access media keys
Gaming mode option for deactivation of the Windows key
10 customizable software profiles with on-the-fly switching
1000Hz Ultrapolling™ / 1ms response time
Earphone-out and microphone-in jacks
Detachable wrist rest
One integrated USB extension port
Approximate size:

469mm (length) x 168mm (width) x 15mm (height) – without wrist rest
469mm (length) x 221mm (width) x 15mm (height) – with wrist rest
Both design and function play a part in all computer gaming peripherals and both are going to be incredibly important if you're going to convince me to shell out roughly £50 on a keyboard, I wouldn't usually consider paying more than £20 if I'm honest. Let's start with design anyway.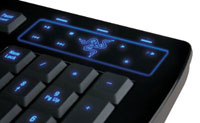 The Lycosa is a medium sized keyboard with non-slip, low profile, back-lit keys and an attractive shiny black finished casing. The detachable wrist rest requires the removal of four small if you'd prefer it without. It's the first thing I got rid of; I've never been a fan of wrist rests though many are.
The shiny black plastic housing of the Lycosa is pleasant to look at to begin with, but as you might have guessed it soon becomes utterly covered in fingerprints, any speck of dust also stands out like a sore thumb. The very cool touch sensitive media and lighting control keys are particularly bad for showing up muck, and cleaning them does obviously trigger them most of the time.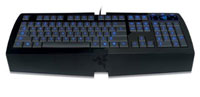 The key back-lighting has three modes, switch-able with a small image of a light on the touch sensitive media keys as mentioned above, you can either have all back lighting on, all off, or just the WASD keys on but somewhat brighter than usual. Now it might just be me but I see this as a bit of a superfluous feature, why make the four keys that most gamers use for movement be brighter when your fingers are going to be on them more often than not? Granted it helps you find them in really dark conditions but then you are more or less blind, you'd better be used to your keyboard layout before you activate this lighting schema.
The back-lighting is also the source of main concern, in normal daylight conditions it can very difficult to see the keys and with the back-light turned off it's more or less impossible; increased visibility in dimly lit environments most definitely costs a little ease of use in every day normal usage scenarios. Still if you do an awful lot of gaming in low light conditions you'll likely not be bothered by that.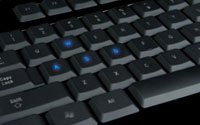 The keys themselves are somewhat less shiny than the casing and have a very nice non-slip feel, almost like a very hard rubber, also being very low profile they are very easy to press; great if you want quick reaction times in games but poor if you have big fingers and type fairly quickly. I'm constantly hitting several keys are once and the Lycosa will actually register both presses most of the time, that's perhaps only an issue because I'm not exactly Mavis Beacon when it comes to touch typing.
Rapid key-press response times is also taken care of via the obligatory 'Ultrapolling' or 1mhz response times, in games where every millisecond counts, this might make a difference and really is the sort of added value feature than tempts gamers to part with a few extra pounds for a premium product. Its benefits might well be useless for the average human being though.
Macro keys are also something of a must with a keyboard targeted at gamers and the Lycosa does this particular job brilliantly. Rather than having a whole host of extra keys and making the keyboard huge in the process, the Lycosa allows any key to be bound to a macro as and when one of ten different profiles is activated. Obviously your default profile will not having any macros bound so you can type normally and macros can be activated either manually or set to load automatically when a specific .exe loads. This way you could perhaps have a profile for each of your favourite games with all sorts of whacky custom macro functions. Recording macros themselves is relatively simple and they can be customised to the nth degree without too much trouble but I still find it a bit of a black art if I'm honest. No doubt to the keen tweaker they could be a huge time saver.
For convenience there are also a few extension ports, the single USB port is actually a pass-through rather than sharing the USB connection with the keyboard as can be the case on some devices, obviously this means that you'll probably get the full USB-2 speed and probably not experience any power issues either. A microphone and a headphone pass-through socket are also included.
Summary
The Razer Lycosa isn't the cheapest keyboard in the world and it's perhaps not the best either but it is pretty decent value for money for the keen gamer, issues with the key back-lighting aside it's a thoroughly decent bit of kit.
Good stuff
Great looking
High quality
Cool touch-panel media keys
Keys have a good feel
Very customisable
Not so good stuff
Back-lighting isn't great in daylight
A bit on the expensive side
Gets dirty quickly

More about Razer
||
Comments!