Razer DeathAdder Review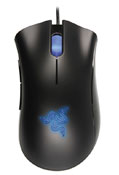 Manufacturer:
Razer
Product:
DeathAdder Gaming Mouse
Platform:
PC or Mac
Official Site:
http://www.razerzone.com/
Reviewer:
Craig Dudley (Mani)
The mouse is without doubt the most important weapon in any PC gamer's arsenal, you simply must feel comfortable with it if you're going to stand a chance competitively. There are literally hundreds of so called gaming mice on the market too, find the right mouse for you and your style of play is not that easy, maybe Razer's DeathAdder can make it a bit easier.
After the recent trend of using lasers to achieve higher and higher sensitivities, it's perhaps a little surprising to see Razer use infrared in its latest mouse, but then Razer never has been a company that simply follows others.
Technical data
| | |
| --- | --- |
| | 1800dpi Razer Precision 3G infrared sensor |
| | Ergonomic right-handed design |
| | 1000Hz Ultrapolling / 1ms response |
| | Five independently programmable Hyperesponse buttons |
| | On-The-Fly Sensitivity adjustment |
| | Always-On mode |
| | Ultra-large non-slip buttons |
| | |
| --- | --- |
| | 16-bit ultra-wide data path |
| | 6400 frames per second (5.8 megapixels per second) |
| | Up to 60 inches per second and 15g of acceleration |
| | Zero-acoustic Ultraslick Teflon feet |
| | Gold-plated USB connector |
| | Seven-foot, lightweight, non-tangle cord |
| | Approximate size: 128mm (length) x 70mm (width) x 42.5mm (height) |
Before we get to how well it works we should perhaps briefly mention how the DeathAdder looks, the top section of the mouse is made from a smooth matt finished plastic that for some reason doesn't seem to promote sweaty palms, a bonus in my book. It's also in a single piece with a split running in-line with the mouse wheel to allow the two main buttons to depress, these and indeed all the button sound very much like micro switches. The rest of the device has a high shine black finish.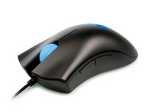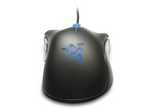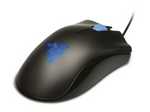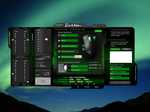 Thumb buttons are large and positioned well, at least for my hand and in general it's a very easy mouse to use. It's extremely comfortable and reminds me very much of my old favourite the Intellimouse Explorer V3, which has of course been re-launched. My only slight gripe here is that it's a little light for my taste, nothing a few G5 style weights wouldn't fix though. However lefties should beware, this mouse was not designed with you in mind.
The final design point to note is the lit mouse wheel and the glowing blue Razer logo in the centre of the mouse, granted this logo is under the palm of your hand most of the time whilst gaming but it still managed to annoy the hell out of me. Fortunately it can be switched off in the driver control panel, independently of the mouse wheel light which is good as I actually think that's cool.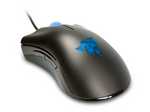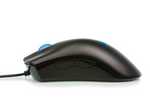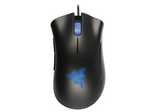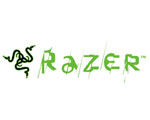 The driver control panel itself has the familiar 'Borg' like black and green colour scheme that's so common in Razer's packaging and PR materials. As well as having the options to disable annoying glowing logos if you see fit; there's also all the standard sensitivity options you might expect as well as the more advanced button customisation, including macro's and on the fly sensitivity. The tool for selecting the polling rate is also found here, setting the mouse to 1000hz and 1800dpi will give you the most sensitive and accurate mouse I've ever experienced, in fact I'm more than happy with the polling rate set to 500hz.
I must also give Razer kudos for updating their drivers often and also the mouse's firmware to fix even tiny little issues.
Performance is what this mouse is all about, and boy does it perform. It's taken me quite some time to tweak it to my liking and different surfaces certainly seem to need different settings as you might expect. Of all the half-dozen or so surfaces I have tried it on, I much prefer the way it's large Teflon feet glide on a good old cloth matt, it's sensationally smooth and highly accurate with it.
First person shooters are obviously what this mouse was made to excel in, and it does. As with everything else I did with this mouse over the last couple of months, it's an absolute pleasure to use, this thing remains accurate at very high speed and is astonishingly good at making tiny adjustments, something that can make all the difference between winning and losing.
That ability to be so accurate and sensitive whilst moving slowly also makes this a great mouse for use in graphics or CAD packages; a nice little bonus if you work on your PC as well as play.
Summary
Over the years I've gone through a mountain of pointing devices and the main thing that's taught me is that it's worth investing a few extra pounds in a top quality device. If you shop around you'll be able to pick up one of these little beauties for around £40, which might be a lot for a mouse but this is no ordinary mouse. It's very much on a par with the best gaming mice on the planet and some might think it's even a little bit better than most. Personally I'd rate it that little bit higher than the awesome Logitech G5, if we could get the G5's modular weighting system into a DeathAdder we'd have a clear winner but that's the only point in which the Razer loses out, it seems slightly better in every other respect.
If you're in the market for a gaming mouse and don't mind paying £40* then picking up a DeathAdder is not a difficult decision, it's highly unlikely to be a decision you'll regret either.
Good stuff
Supremely smooth and accurate
Very customisable
Software is easy to use
Not so good stuff
A little light for some
Annoying glowing logo, which fortunatley can be turned off
* At time of publication you can pick one up at
Meroncourt
for £37.99 inclusive of VAT.

More about Razer
||
Comments!