Project Gotham Racing 4 Review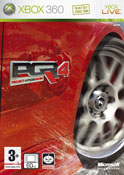 Top Gear. Two little words that have grown men foaming at the mouth, and frothing at the screen. In a society where using cars has arguably become more commonplace than walking, it's amazing how driving things still has the capability to excite, impress and arouse us. Of course, it helps if they're built like a supermodel carrying a bazooka.
Which is where games step in. Because, you see, you're never going to get to play with a hot chick wielding a weapon of mass destruction in real life - just as you're unlikely to ever crash an Audi R8 into the back of an Enzo Ferrari. I'm here today to show you how easy it is to accomplish the second scenario.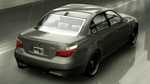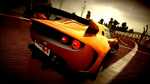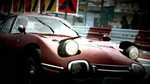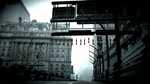 Project Gotham Racing (PGR), Bizarre Creations' seminal racing series, has now reached its fourth incarnation, winning consistent praise from anyone who's ever played it. Question is - is PGR4 more than just a tweak under the hood to those who already own the last outing on the Xbox 360? The answer is a resounding yes, and those expecting a polished, familiar and thrilling title will not be disappointed.
In car terms, simulation games like Forza Motorsport are the sensible BMW estate you drive to work and drop the kids off in. PGR4 is the Porsche 911 you buy for yourself after the divorce. It's loud, looks good, and boy does it go. Few games convey the boyish excitement of high speed racing like PGR - you can almost hear Jeremy Clarkson jabbering in excitement over your shoulder; "Open the taps up and…YEEEES, the speed, the handling - forget your Gran Turismos ladies - there's a new boy in town…"
But let's back it up. The mechanics of the game are simple enough - drive from A to B around various real-life locales, much like the hundreds of other racing games out there. Where PGR4 differs though, is in quality, and dream handling. As soon as you hit the track, you'll feel comfortable with PGR's cars. Whether it's a Mini Cooper or a McLaren F1, it handles how you'd expect it to in your head. Which is, in fact, the crucial point. I've no idea how easy or hard it is to take a Ford GT around a corner at 100mph, and I'm pretty sure it's nothing as simple as in PGR4. But I don't care one bit - in game it feels like perfection. The line PGR treads between arcade and simulation is so well refined that you completely submerge yourself in the driving experience.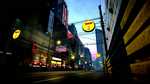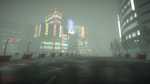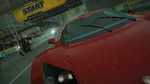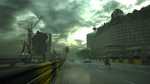 The Kudos system from previous instalments returns, and is largely responsible for increasing the thrill of driving - being awarded points (which act as a currency to buy unlocks in the game) for cornering well, power-sliding stylishly, or driving dangerously fast is a fantastic ego boost. It's akin to having a beautiful woman in your Lamborghini - spurring you on to increasingly stupid heights - and without the drawback of having someone fiddling with your radio. Hang on; did I just compare a computer-game to a woman? I've been reviewing games too long…
Eyes back to the road, and it's time to mention just how good the tarmac looks. Always a pretty series, PGR4 really pushes the boat out with gorgeous environments, fantastic weather effects, and stunningly detailed tracks. As for the cars themselves - slap on photo-mode and you can create some truly stunning images. The lush visuals complement the fantastic track design for thrilling results. Number 4's predecessor PGR3 was a great title, but suffered some repetitiveness after prolonged play. This was undoubtedly due to the track selection, which was at times fairly uninspired, uneventful and flat. In contrast, PGR4 really ups the tempo with the new cities on offer - tracks bend, climb uphill, twist and constrict, before opening up in gloriously spacious straight sections. It's far more eventful and rewarding driving experience than I expected, and when combined with the array of weather effects on offer, is unlikely to grow old for some time.
Although rain and snow aren't normally conducive to very exciting driving (you're more likely to nudge a car in a traffic jam than lose control over an ice patch at 150mph) in the glossy world of Project Gotham, snow, ice, fog and rain all combine to add a dramatic and epic tone to races. In career mode, some races even have dynamically changing weather - so don't be surprised if you find yourself battling it out for first place under a brewing storm that erupts ferociously on the final lap.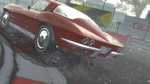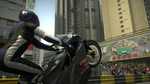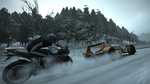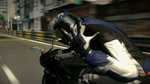 In truth, what really sets PGR4 apart from the competition isn't the new tracks, the car selection, or either the weather effects - it's how the package comes together as a complete unit. Although there's a career and challenge mode which offer compelling races and events with progressively more challenging vehicles, none of this really matters in the end. PGR4 would be as good a game as it is with just a time attack mode. Whether it's thrashing a Lotus Exige around Quebec in a pounding storm, or racing a bike through icy St Petersburg, the thrill of just driving never evaporates.
And yes, it's true - PGR4 introduces motorbikes to the team, and they're a welcome, if slightly unwieldy addition to the game. What's not so welcome is the absurdly clunky menu system. Why the PGR series insists on having to go through three to four pages of options just to set up a race is beyond me, and little has changed in the latest title. In addition there's an awful delay when choosing cars between highlighting a potential choice, and seeing the preview model on screen - further protracting the process of setting up games. It's a shame that such a stylish and fluid game is tarnished by such a clunky and intrusive menu system.
It would be remiss not to mention all the other features which Bizarre Creations have crammed into their labour of love - it serves as a reminder of how polished a series PGR has become. There's plenty of integration with Xbox Live, be it uploading photos and ghosts, or racing multiplayer with your mates and random chavs. One interesting new mode is Bulldog Mode, which is played out in an open city. It's essentially a large game of British Bulldog, and is as violent, chaotic and sneaky as the traditional game it's modelled on. All in all, if you're a car nut there's plenty to sink your teeth into and be getting on with - though more often than not you'll be satisfied with just picking a new dream car and scorching around the Nürburgring.
Summary
Project Gotham Racing 4 really is a car fan's ultimate dream - stunning cars, beautiful tracks, and thrilling handling. It's like an episode of Top Gear on your Xbox - without the bad jokes. The additions of a weather system and several new cities effectively double the game in size over PGR3, making it a worthy purchase for those who have already succumbed to the series' charm. Without doubt, the best non-simulation racing game around - take a seat and give it a spin.
Good stuff
Gorgeous visuals
Fantastic handling
Exciting tracks
Well implemented weather system
Downright cool
Not so good stuff
Rubbish menu system
Not as cool as owning a real Aston Martin Vantage

More about Project Gotham Racing 4
||
Comments!