Nova Raider Review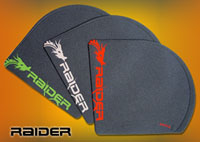 Manufacturer:
Nova
Product:
Raider, high precision mouse mat
Platform:
PC
Official Site:
http://www.esportnova.com/
Reviewer:
Craig Dudley (Mani)
Nova is not a name I've heard a lot of but they've actually been making high quality mouse mats for 15 years from their base in France, indeed they'd probably be happy to make a large batch of personalised pads for your company if you wished, but that's not the focus of this review, their Raider mouse pad is. It's a mid-sized gaming oriented mat for just less than a tenner; quite clearly aimed at the serious but cost sensitive gamer.
Technical Specification;
6000 DPI - Random micro-mirrors to detect and amplify the optical and laser signal.
ALERTING FRAME - To instinctively re-center the gamer on the pad.
ADHESIVE STRENGTH - Its cellular foam sticks to surfaces by micro-suction.
ERGONOMIC DESIGN - Size 266 x 230 x 2 mm.
MONO-COMPONENT FOAM - Long-lasting pad.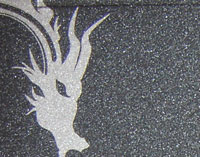 Most gamers will have an opinion as to whether they prefer a hard surfaced mat or a more traditional cloth pad, the Raider is bit a hybrid in this respect however as it has a tough and firm outer coating whilst being every bit as soft and spongy as one of those common foam rubber backed cloth pads. It appears to be constructed from an incredibly tightly woven fabric that's encrusted with what Nova call micro-mirrors. To me and you that's just a lot of sparkly bits that are presumably sprayed on top of the mat mixed into some sort of polymer. The end result is a cloth pad that has a relatively solid and sweat resistant surface but is very soft to the touch and comfortable to use.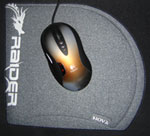 The Raider itself is 266mm x 230mm and 2mm thick, though to be quite honest it feels much thicker, perhaps the 2mm is just the polymer coating. Generally the Raider does feel a little bit on the small size though, this might suit you however so it's not all negative. The mat also features a channel across the bottom and right of its surface. Nova call this an alerting frame, the idea is that you will feel the depression when you're moving too close to the edge of the surface and adjust before sliding off the mat entirely, it works quite well, but obviously isn't as useful for a left-handed user. The alerting frame also has the somewhat frustrating side effect of making the pad's surface feel even smaller.
The foam underside is very smooth and sticky, it's more or less assured to stay put if you're a normal person and use it atop a standard wood desk surface. The lack of sideways movement is a must for a mouse pad aimed at gamers; you really don't want it moving at all if possible and thankfully on most surfaces it won't. The surface of the mat does however get quite sticky on my sweaty wrist and even has the habit of lifting up whilst stuck to my skin, a flaw I would also put down to the size of the Raider to be honest; I can't see one of its bigger and heavier brothers lifting up much if at all.
In general use, tracking is very good without being mind blowing. Neither the venerable Microsoft Intellimouse Explorer V3 nor the Logitech G5 had any issues during a couple of weeks of general Windows use interspersed with long Supreme Commander and Battlefield 2142 sessions. However, the Raider's bigger brothers feature a higher concentration of the fabled micro-mirrors and that may improve tracking effectiveness greatly.
Summary
I'm sure I would like the Raider much more if it were bigger. If it had slightly better tracking abilities and if it perhaps didn't get stuck to my damp wrist then we might have a winner. Effectively I just described the Nova Killer, this mat's bigger brother. The Killer is however twice the price but will be a much better choice for most gamers, though if the slightly smaller size doesn't put you off, the Raider is a reasonable choice that won't break the bank.
Good stuff
Under a tenner
Tracks well
Zero sideways movement during use
Comfortable over extended periods of gaming
Alerting frame works well
Not so good stuff
Too small for some, me included
Sticks to my sweaty wrists