Icemat Siberia In:Ear Headset Review

Icemat have been supplying gamers with goods for over six years now. Starting off with their trademark mouse-pad, the original Icemat, their range has since been expanding, and they seem to have won the hearts of gamers in the progress. Much like SteelSeries, Icemat aim to offer gamers a range of stylish yet high-performance gear. One of the areas Icemat have been exploring is quality audio headphones and headsets with their Siberia series.
It's part of the Siberia family that I'm reviewing today, the Icemat Siberia In:Ear Headset. With the tag-line 'size doesn't matter,' these are multi-use and versatile headphones, suitable for everything from MP3 players to gaming and VOIP. So, jack-of-all-trades and master of none? Not quite, the Icemat Siberia In:Ear Headset is actually a comprehensive and useful little package, but before we get into that, here's the technical waffle:
Technical data
Headset specifications:
Microphone specifications:
Frequency response: 30 - 24.000 Hz
Frequency response: 80 - 15.000 Hz
Impedance: 16 Ohm
Impedance: 2K Ohm
SPL@1kHz 1Vrms: 90 dB
Pick-up pattern: Uni-directional
Cable length: 1.0 m + 1.8 m = 2.8 m / 9 ft.
Sensitivity (1V/P@1 kHz): -38 dB
Jack: 3.5 mm
Out of the box the Siberia In:Ears ooze modern style and trend. Clean white in colour (also available in black), this is something that the iPod generation will truly appreciate. These are in-ear headphones so you won't find a bulky mic attached to a clumsy boom here. Instead, the mic is a clip-on that can be added to the headphones using a separate 3.5mm jack extension cord provided, with an on-off toggle built onto the mic itself. The wires are coated in pleasingly thick rubber that certainly looks as though it'll take a beating, crucial if you're wearing them day in, day out.
The headphones are actually canalphones, with earbuds that go directly into your ear and sit inside the ear canal. Icemat have provided two silicon ear sleeves, a standard rounded one and a ribbed version. The package comes with a spare set of the rounded ones too. To cap it off there's a little trendy grey transport bag included, maybe something the LAN crowd will appreciate.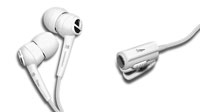 What's important straight away is that these look the business. As mentioned earlier, the clean white design is instantly trendy, and the whole set-up feels reassuringly expensive and robust. I can imagine plenty of non-gamers taking to these aesthetically. Far more important though is comfort. As far as headphone use goes I'm an extremely heavy user. While I'm at my PC I generally always have my headset on, and when I'm out of the house my MP3 player goes on instantly. If you're anything like me, headphones have to deliver ultimate comfort.
Luckily, the Siberia In:Ear holds up pretty well. When I initially tried them on I was using the ribbed silicon sleeves. After a while of having these in though my ears would start to itch horribly, really distracting me from listening to anything, and mighty annoying. Fearing the worst I switched to the rounded sleeves - and was immediately rewarded with a far more comfortable experience. I've no doubt this was a personal thing, but it's nice to have the choice. Cheap earphones often tend to make the inside of your ear raw and sore after prolonged use, usually because they're made of hard plastic. Luckily the Siberia In:Ear is a far more comfortable ride. The silicon sleeve takes up the bulk of what's actually in your ear, so the headphones are much more cushioned against your skin. I had little to no problem wearing this for long train trips with my MP3 player.
But how does it sound? Well, as mentioned earlier I immediately used these for MP3 use. The advantage of canalphones is that they offer a much richer sound, and a high level of noise reduction due to their placement in the ear. I must make special note of the noise reduction - it's absolutely fantastic. You'll be hard pressed to hear anything with these in, and you won't be letting much sound out either. If you're on a tube or train it's a win-win situation for everybody. A side-effect of this is that you probably won't need to have your MP3 player up as loud as you normally do; hopefully meaning less damage to your sensitive gamers ears.
When I actually played music out of them, I was impressed by the bass presence. Well, a bit too impressed. While the bass is immediately full and rich, I feel it comes out a bit too strong. This ends up muddying the sound somewhat - some of the trebles and mids were definitely getting lost in the mix. This was particularly noticeable with some metal and rock, while on some more lighter songs the vocals would occasionally get strained and lost amidst the rumbling storm of bass. Using these with an equaliser will produce the best results, but I find it annoying having to fiddle for each type of song. On top of this my MP3 player's EQ settings aren't spectacular either. I definitely noticed an improvement to the sound quality after using them a while and breaking them in, and overall I was impressed by how rich the sound was.
Taking the headphones to the PC produced some nice results. While the headstrong bass is perhaps a little too much for some MP3s, it lends itself perfectly to gaming. Gunfire in Battlefield 2 was satisfying and meaty, while brutal sword-fights in Dark Messiah of Might & Magic were clangy, tangy and overall very thrilling. While performing well in both music and game use, the set were by far superior when gaming, perhaps reflecting that these have been made for gamers specifically.
Of course, gaming these days isn't really just about listening any more. With the growth of broadband we've seen a surge in online multi-player shooters, strategy titles, and well...every genre of game under the sun. It's becoming more and more important to get your point across to team-mates and fellow gamers - and typing is fast becoming a chore. The mic included with this set is no throwaway addition, but a surprisingly clear little number. Using a clip on you can attach it to your clothes, much like mobile hands-free kits. I tried this out with Skype and Ventrilo, two popular VOIP clients. According to my friend I was quite clear, definitely speaking with enough clarity to hold a sustained conversation that extended beyond 'need cover!' and 'behind you!' I was once told that an old mic of mine made me sound like I was sat on a motorbike, with a vibrator in my mouth. The mic with this set produced no such reaction. At the end of the day that's really all you can ask for.
Summary
I really like this little set. It's pretty good for MP3 use, and you can plug it into your PC and start gaming too. The detachable mic means that you can be barking orders on ventrilo, then blending in with the iPod crowd on the high street five minutes later. Indeed, the versatility of this set is what makes it so great, especially if priced at around £20-25, they are a little more than that from the official site though. While I don't think this will ever replace my huge padded headset as my primary gaming headphones, they certainly make a useful back-up and I'll be keeping them for my Sony MP3 player. For LAN gamers, this could be a useful little bundle to take on the road as it's small, compact, comfortable and can handle any situation. Overall, I neat and stylish set of headphones.
Good stuff
Comfy and stylish
Versatile and complete package
Awesome noise reduction
Nice rich sound, with solid bass
Not so good stuff
Not as comfy as top-end over-ear headsets
Bass can be a bit too much for some music