FIFA 07 Review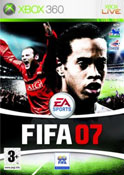 Developer:
EA
Publisher:
EA
Genre:
Football (Soccer)
Platform:
Xbox 360
Official Site:
http://www.fifa07.ea.com/
Release Date:
October 27th, 2006 (UK)
Reviewer:
James Barlow (Malis)
Ask most gamers what football series they play, and they'll either say FIFA or Pro Evolution Soccer. These two titans of the genre have been battling for a while now but in recent years it's been Pro Evo that's really captured fans' hearts, despite its criminal lack of licensing. All this could change now though, as FIFA 07 sees the series in its first proper foray into next-gen territory on the Xbox 360. With a new graphics and physics system, this latest instalment seems to mark the series' reinvention and progression beyond stale yearly remakes and into a thoroughly enjoyable and realistic interpretation of the beautiful game.
Yes, yes; FIFA 07 looks gorgeous. Undoubtedly the prettiest football game to date, watching a game being played is truly a sight to behold. The stadiums in particular are incredibly modelled, and even the crowd looks impressive. Everything is bright and crisp but it's when you zoom in to grass-blade levels for replays that you truly appreciate just how stunning the game looks. While many of the players have a cartoony, plastic appearance to them, they are for the most part instantly recognisable, although there is the odd dodgy mug. Animations are similarly sublime too, with players juggling, controlling and passing the ball in impressively realistic style. One thing that really impressed me was running animations. The way Cristiano Ronaldo runs is very different to how Henry runs. Whether it's deliberate animations for famous players or a trick of the eyes - it seems to be possible to tell who a player is purely from their running style.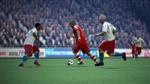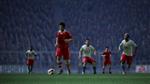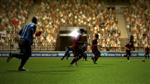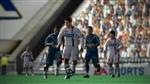 FIFA 07 has been redesigned from the ground up with new ball physics, and it's immediately noticeable. The ball is no longer tethered by an invisible chain to players' feet, and now is an independent force that is affected by much more realistic physics. Depending on the speed and angle of the ball, or how much pressure someone is under, your player may deftly control the ball or have a poor first touch. This is highlighted when defending; no longer is it as simple as collecting the ball and hoofing it away (when in doubt, kick it out); once amongst five or six players the ball is subject to jostles and bounces, making unpredictable deflections a real danger. There's even the chance that a well struck shot will bounce under a keeper, or hit him so hard it carries through to the net.
This realism pervades the game, and in my eyes, is all the better for it. Previous FIFA titles were comparatively shallow - hold sprint and get into the box and shoot - but 07 is actually a much slower more calculated game. Yes, pace is as important as ever (and rightly so considering the modern game), but the new physics on display mean you really have to work for your goals. Defenders are quick to get back and force you into awkward shot positions, or simply throw themselves in front of Gerrard-esque bullets. Strong defenders will simply brush aside frail attackers, and it becomes of real value to have a solid target man to aim for as well as a pacier striker. On top of this, shooting is much more trickier than before, as a host of factors come into play to determine the accuracy of your shot; from spin on the ball, presence of defending players, which foot is being used and how hard you want to hit it. Other games have attempted this but few have pulled it off as successfully as FIFA 07. No longer do you simply blast shots in the hope of scoring. No, now chances are important opportunities that have to be worked for and not squandered.
What makes the game so thrilling to play is that despite the effort required to craft decent opportunities, the game can change in an instant due to defensive error or random deflection. I played one game with Arsenal where I relentlessly assaulted Fulham's goal only to find all my chances slipping wide of the post. A swift goal kick from Niemi suddenly exposed my defence though, as the ball bounced awkwardly over Toure and McBride flashed through on goal, easily netting their only chance. It's the near misses and goals against run of play that many people remember from real football, and it's fantastic to play a game that so thoroughly captures the spirit of the football we see played week in week out in domestic leagues, all played out to the shouts of brilliant crowd chants and the wisdom of Martin Tyler and Andy Gray.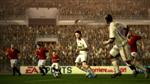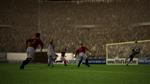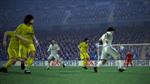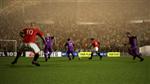 Yes the dream-team of commentary lend their vocal talents to the game, and the audio is indeed on another level of fantastic. Martin Tyler happily chatters away, covering all the play with his expert eye. But it's the detail put in that really impresses. If there's an idle passage of play, and depending on what team you are, don't be surprised to hear Martin talk about how England fared in the World Cup, how Arsenal lost to Barcelona in the Champions League, or how Fabregas was an integral part of Spain's World Cup squad. It's brilliantly implemented and really ups the realism level. Andy Gray chips in with his critical eye too - if your defence is having a bad day don't be surprised to hear him rip into them with a barrage of criticisms. Of course, in-game commentary will never be perfect, and you'll still get the odd classics like Martin Tyler bellowing 'ROOOOOONEEY' when the boy wonder picks it up in his own half, but on the whole this ranks as being the best football commentary I've heard in a game to date – certainly better than Pro Evo's laughable efforts.
While FIFA 07 plays a charm, there's a definite lack of the usual polish so associated with past entries to the series. Normally we're accustomed to every feature under the sun, but the next-gen incarnation of 07 is really quite bare of modes. Other than a quick exhibition match and online play, the only mode of note is Manager Mode. It's quite engaging and fairly deep, tasking you with scouting players while managing and playing games, all the while keeping the board and sponsors happy. As you win games players earn growth points which can be used to improve abilities. There's a baffling lack of custom leagues or cups to play through though - it's impossible to create a home-made World Cup for example. While manager mode is all well and good, I'd like to be able to play league or cup games without trawling through the management side of things too. Other noticeable omissions are weather effects and a more extensive choice of leagues. Unless you're interested in the top teams in the world you may be slightly disappointed with what's on offer.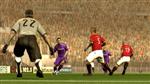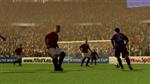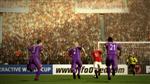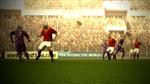 The other main annoyance comes from tackling and fouls. Forwards like Rooney have a real physical presence, keeping players at arms length until they've twisted an opening. What's annoying is when these imposing players clatter into each other. Sometimes it satisfyingly sends one tumbling to the ground, but often there's an odd rebound that seems more like bumper cars than football. Very strange, and annoying to see. Refs are universally hated by everyone, and FIFA 07 doesn't do them any favours by making them very card friendly. If you go to ground in a slide tackle, you better be sure you get the ball because it will more often than not get you a yellow. If you go in from behind it's typically a straight red, which just doesn't happen in this day and age unless the tackle is truly horrific. With all these problems or lack of content, it's entirely possible that EA may use Xbox Live to deliver new leagues or patches, we'll just have to wait and see.
Speaking of online features, what FIFA 07 has, it implements superbly. Online games are a breeze to find and set-up, taking all of five seconds before you've found an opponent. Whilst playing I suffered only one bout of lag over ten games, and it swiftly passed. Playing against humans is where FIFA really comes alive, and it's a true joy to blast one in against someone who you know is raging in disgust in a living room far away. One of my games even went to penalties, and I can't describe the satisfaction of doing a cheeky chip penalty against some poor gamer. As well as online play, there's also a comprehensive league tracker. Here you can select a real-life league and you're shown top goalscorers and points table updated in real-time, along with latest match scores and results. You can even select individual teams and read match reports, or assign important news to be read in a news ticker at the bottom of the options screen. For a football fan it's a dream come true, and certainly a feature I expect I'll be using more as the season progresses. You'll also be kept up to date with latest teams and transfer data thanks to automatic roster updates, which will be a real life-save when the January transfer window comes along.
Summary
FIFA 07 is a good, fun game, that deserves to be played on its own merit that disregards the FIFA series' sometimes criticised nature. Indeed, perhaps the greatest accolade I can give it is that it gave myself and my friends, four hardcore Pro Evo fans, a highly enjoyable afternoon and grudging appreciation. It felt to me as the most realistic football game I'd played, though of course not without flaws. Its also worth nothing that the physics really do make a difference, and are far from just marketing blurb. On top of this, an extremely well implemented online mode make this a real gem in any football lovers collection. Normally with the FIFA series we're accustomed to have all the bells and whistles but none of the game-play. Next-gen 07 seems to reverse the trend. Now we have the game-play we wanted, but, um...can we have the bells and whistles back please EA? If FIFA 08 expands on this and gives us the features we're accustomed to, we could well be looking at FIFA reclaiming it's title as the greatest football game series.
Good stuff
Great ball physics
Cultured but exciting games
Robust online mode
Awesome commentary
Fully licensed
Neat football news tracker
Not so good stuff
No weather
Only a small number of leagues
Refs seem card happy
No custom cups

More about FIFA 07
||
Comments!