Brian Lara International Cricket 2007 Review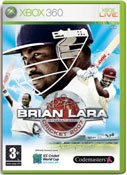 Cricket has long been one of the quintessentially English sports, involving wood, leather, walking, afternoon tea and Australians. While I love the game to pieces, can a sport that involves a lot of standing around on a field translate well to a video-game? The answer, as anyone who's played the Brian Lara series of games can testify, is a resounding yes. Brian Lara International Cricket 2007 brings the game to life with depth, accessibility and thrilling multi-player. The 2007 instalment marks the first time the series has ventured onto the Xbox 360, and features a variety of gameplay upgrades from previous editions.
Much like Pro Evo football and FIFA, Brian Lara competes with EA's own fully licensed sports title - the imaginatively dubbed Cricket series. While EA's series has the full names, kits and stadiums, many believe that the Brian Lara system just edges it (pun discovered by accident and left in) when it comes to gameplay. In the 2007 instalment, Brian Lara Cricket has the ICC Cricket World Cup 2007, and ICC Champions Trophy 2006 with full license, meaning that if you play any matches in these competitions you get the luxury of correct kits and names. As these two competitions are fairly detailed and large, it goes some way to alleviating the annoyance of playing with anagrammed players.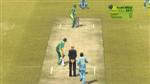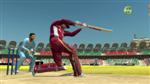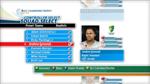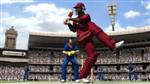 While the series has been developing a faithful following on both PC and Playstation 2, this is the first time any cricket game has features on the Xbox 360, a fully next-gen system. Does it have all the graphical flair we've come to expect from the machine? Sadly, no. While it undoubtedly looks crisp and detailed on the screen, and the animations are both fluid and realistic, the improvements in graphics really aren't all too impressive. Pitches look a bit flat, player faces clay-like and the crowd of the more cardboard variety. While it by no means looks shabby, gamers on the 360 will no doubt be disappointed with the slightly lifeless makeover Codemasters have churned out.
Which means the actual gameplay needs to be of such a good length that it deserves to stand proud against other sports titles. Luckily Codemasters have made few changes to the batting and bowling system that have served them so well over the years. With the introduction of fully 360 analogue batting, placing shots through weak points in the field becomes incredibly satisfying. Couple this with the ability to 'dance down the wicket' when the batsman's confidence is high, and new sweep shots - suddenly the batting side of the game feels much more balanced and diverse than in previous years. In fact, the balance may have shifted too much in favour of batters, as I found it fairly easy to hit consistent boundaries with good batsmen like Ponting, Lara and Vaughan (yup, Vaughan). Although the bowling now supposedly mimics swing and spin over crumbling wickets better, it doesn't help much when you're being creamed for six off the first few overs.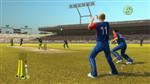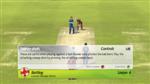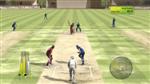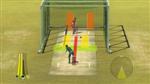 These issues are perhaps not helped by a hit and miss new fielding system. Although a welcome inclusion is the ability to now throw the ball to either the wicket-keeper's end or the bowler's, there seems to be a random overthrow factor that can frustrate intensely. The fact that the animations for the overthrows look decidedly awkward and out of place make me wonder more if this isn't purely a bug with fielding on occasion. Regardless, accurate timings on the throw button shouldn't be met with the situation where the ball slides past the stumps and the bowler watches it, does nothing, and a fielder from half the pitch away has to run in and throw it back. Also new to fielding is the reflex catching. Whilst it's been the norm in the series for a while to achieve catches through accurate timing of the catch button, up until now it's been fairly forgiving. In Brian Lara 2007, unless you have perfect timing, you'll hear the inevitable 'oh! butter fingers!' commentary play out - this includes catches in the slips which were previously automatic. Until you've practiced for a good few games, expect more drops than Ashley Giles and Monty Panesar playing hot potato.
Still, despite the slight unbalance between batting and bowling now, and the awful AI in single-player games, Brian Lara remains riveting and absorbing - truly if you love the game, there's nothing better than smacking the ball around for a swift 50, or mastering swing and length with your favourite bowler. Couple this with excellent presentation - including old favourite Hawkeye for all those important LBW decisions, and a neat front-end including a Jonathan Agnew narrated training mode and nets - and the package is fairly complete. Talking of Aggers, the commentary is still creaky and repetitive, but remains compulsive listening. Anyone who loves cricket knows that it's just not the same watching a glorious cover drive without Aggers, Gower, Grieg and the rest of the team chatting randomly over the top.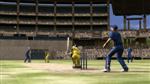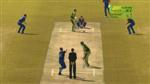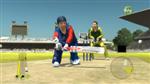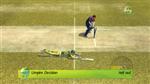 At the end of the day, while the solo play for Brian Lara lacks much spark, it's in multi-player where the game cements itself as a true gem. Playing against human opposition really sets the game alight - every wicket becomes an important trophy for the bowler, and every boundary a bigger smirk on the face of the batsman. There can be no greater satisfaction than to be hammered by quality batting, and then suddenly take two quick wickets and turn the game around on your friend. It's a testament to how accessible, yet deep the game is that both new and experienced players can enjoy the game together.
Of course, one of the main selling points for the Xbox 360 version is the inclusion of online play through Xbox Live. While a great idea in the nets, out in harsh wicket of the internet, it actually becomes something of a stumbling block. The trouble with cricket games is they're much longer than other sports games. As such it can become a struggle to actually play out complete games, unless you opt for the shorter 6 or 10 over games. There's nothing more crushing than being on target for a half-century, and seeing your opponent quit in frustration at being knocked about. As such, your enjoyment of online multi-player may boil down to your patience, and whether you can actually find a decent game.
Summary
Brian Lara International Cricket 2007 is a solid release, but one that doesn't really stray too far away from safe zone of previous titles in the series. Whilst the changes that are implemented are welcome steps, I can't help but feel that the balance of the game has been slightly upended. In addition, the online multi-player isn't as fantastic as we hoped - though this might be more criticism of the people playing than the game itself. Nevertheless, for standard multiplayer, this title stands out as exciting and tense, rewarding both new and experienced players. Ultimately, if you're a cricket fan, you'd be barmy not to get this.
Good stuff
Classic gameplay returns
Fantastic local multi-player
Well presented
Nice animations
Some welcome steps forward with batting and fielding
Not so good stuff
Batting feels slightly overpowered now
Poor single-player AI
Might be a struggle to find decent online games
Graphics not as good as they could and should be

More about Brian Lara International Cricket 2007
||
Comments!