Thursday, July 19 2007
Firefox 2.0.0.5 Released
by Craig D at 09:28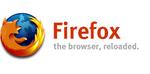 The latest version of
Firefox
has been released, it is as usual a security update. Eight bugs are squashed this time, three of them are critical so get it installed.
If you're using Vista you might also be interested in this patch to get the
Windows Media Plugin
working again in Firefox.

Why not register and have your say?