Tuesday, November 02 2004
Firefox use increasing
by Craig D at 10:48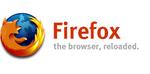 the Inquirer has an article on the rise of Mozilla and Firefox usage, the numbers are still releatively small, but no longer insignificant on anyones scale.
According to a monthly report prepared by webcounters WebSideStory, the numbers using Mozzarella and FireFerrit was six percent of the total market in October growing from 5.2 per cent in September and 3.5 per cent in June.
Read the full but short
inquirer article here
.

Comments
Jammin

Posts: 2846

Rank:




03 November 2004 11:08
Why not register and have your say?