Requital
About

Specs

Articles

News

Updates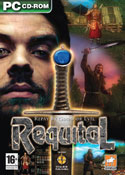 Why not
subscribe for updates
and get an email when any news is added on this subject?
Release Date:
September 14th, 2007
Developer:
Primal
Publisher:
Akella / Excalibur
Platform:
PC
Publishers Description:
Your name is Wolfhound. You are the last of your clan. You were taken screaming from your mother's breast and enslaved, whilst your parents were murdered at the hands of a murderous butcher. You now have your freedom and there is only one thought on your mind – revenge! All you remember about the person who ripped your family apart is the weapon he used and the mark on his hand. Your quest is to find him and make him pay for the death of your family with his death - by your sword.
Before you can repay the evil that was done to you and your parents, you must wear a mask of friendship to all those that you meet on your travels. The only way to get the information you need is by offering help to others. You will have to perform a variety of tasks, spend time building up your skills, weapons and armour, as well as training yourself by fighting lesser enemies.
Danger lurks all around these lands not only from the living but also from the undead! Always keep your best weapon close to hand!
---
System Specs:

Minimum System Requirements
OS: Windows 2000 or XP
CPU: AMD/Intel 1 GHz or higher
Video: Videocard with Direct3D Support (GeForce 2 or better)
RAM 512 MB
Sound: Direct X 9 Compatible Sound Card
Hard Disk: 1 Gb free hard drive space
DirectX 9.0c (available on game CD)
Swap file: at least 768 MB

---
| | | | |
| --- | --- | --- | --- |
| Article | By | Published Date | Platform |
| Requital Review | Mike Jennings | 10-Nov-07 | PC |
---
Topic Subscription
Registered users can 'subscribe' to this group and receive an email whenever a news article is added that contains the tag 'Requital'.
This functionality is pretty much the same as watching a forum thread and can be disabled at any time.
---