God of War II
About

News

Updates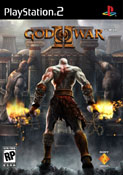 Why not
subscribe for updates
and get an email when any news is added on this subject?
Release Date:
April 2007
Developer:
Sony
Publisher:
Sony
Platform:
PS2
Publishers Description:
The story picks up where players last left off with Kratos. Sitting atop his throne on Olympus, Kratos, the once mortal warrior has become a threat far worse than his predecessor Ares, had ever been. Kratos is a ruthless God, whose wrath strikes down anyone who crosses his path or the path of his beloved Sparta. The "Ghost of Sparta" sets out to alter that which no mortal, or god has ever changed, his fate. Kratos' journey brings him to the very edge of the Earth, facing countless beasts, monsters, and horrors from his previous life, all bent on preventing him from reaching his goal. But this is Kratos, and his defiance is filled with such arrogance and contempt that all of the Ancient World still trembles at his name: Kratos, the God of War.
KEY FEATURES:
* Huge Collection of Combat Moves: Players can utilize their favourite combo attacks from GOD OF WAR along with a whole new set of moves and magic. Magic is based on nature's elements which include utilizing the power if wind, ice and much more.
* New Characters: From the popular Cyclops and Cerebus to the Flying Gryphon and more, players will encounter some of the greatest Greek mythological beasts, along with more enemies and bosses.
* Puzzle Solving: GOD OF WAR II features more puzzle solving, where players must solve intelligent, challenging and progressively more complicated puzzles latent with brutal elements that are intricately woven into the overarching story.
* Exploration: Players will continue their previous expe
---
Topic Subscription
Registered users can 'subscribe' to this group and receive an email whenever a news article is added that contains the tag 'God of War II'.
This functionality is pretty much the same as watching a forum thread and can be disabled at any time.
---