Neverend
About

Images

Updates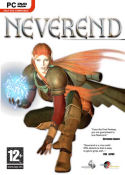 Why not
subscribe for updates
and get an email when any news is added on this subject?
Release Date:
August 2006
Publishers Description:
Immerse yourself into a world filled with action, magic, and adventure. Rejected by society, you are Agavaen a mysterious young woman with magical powers. Explore a vast and unique world arming yourself with powerful weapons and spells as you uncover the clues to your true identity. Travel through bustling towns, towering castles, ancient ruins, and lush landscapes. Talk to its inhabitants, but choose your words wisely. Many will be friend… but many will be foe. Your destiny awaits you…
Features:
• Battle your way through legions of challenging enemies as you quickly choose your strategies with the unique and powerful combat system.
• Create numerous devastating spells with the custom rune system.
• Uncover distinct storylines based on how you play the game.
• 3 levels of difficulty to suit your playing style.
• Build a powerful character with experience points gained through battle and by successfully completing your quests. Purchase rare armor upgrades and potions with gold that you collect along the way.
• Arm yourself with powerful weapons and magical spells as you are confronted by enemies who will do everything they can to prevent you from completing your quests.
---
Gallery Title
Number of Images
Neverend
6 images.
---
Topic Subscription
Registered users can 'subscribe' to this group and receive an email whenever a news article is added that contains the tag 'Neverend'.
This functionality is pretty much the same as watching a forum thread and can be disabled at any time.
---