CSI: 3 Dimensions of Murder
About

Images

Updates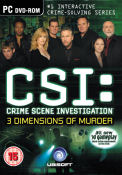 Why not
subscribe for updates
and get an email when any news is added on this subject?
Release Date:
31 March 2006
Publishers Description:
Take a journey inside the criminal mind and find out if you have what it takes to be a member of the Las Vegas Police Department's elite Crime Scene Investigation unit.
Built on top of the successful core design concepts of previous CSI games, CSI goes to the next level with a new real-time 3D engine, improved character interactions and animations, and longer, more immersive stories.
Work alongside CSI agents Gil Grissom, Catherine Willows, Warrick Brown, Sara Sidle, Nick Stokes, Coroner Al Robbins and Detective Jim Brass in 5 distinctive cases. Collect and analyze evidence using real-world forensic equipment and cutting edge investigative techniques.
Features:
• Authentic CSI experience. CSI-style visual treatments, forensic reconstructions, and voice acting by the cast members of CSI.
• Real-time 3D engine, improved character animation and lip-synching, and TV style camera treatments provide a more realistic and cinematic game experience.
• Non-Linear Gameplay progression allows players to solve cases their way. Deeper plotlines and shocking twists provides a more immersive experience than previous CSI's.
• Evidence Trinity (solve the case by the victim, the crime scene and the suspect) draws players into the action and makes them feel like they are really solving the case, rather than having the other characters solve the case for them.
• Mobile Crime Lab Vehicle. The newest member of the CSI team is a fully equipped forensic laboratory housed inside a 2005 GMC Yukon. Allows the CSI team to analyze evidence at the crime scene.
---
Topic Subscription
Registered users can 'subscribe' to this group and receive an email whenever a news article is added that contains the tag 'CSI: 3 Dimensions of Murder'.
This functionality is pretty much the same as watching a forum thread and can be disabled at any time.
---