Call of Cthulhu: Dark Corners of the Earth
About

Images

Updates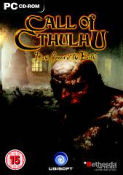 Why not
subscribe for updates
and get an email when any news is added on this subject?
Release Date:
24th March 2006
Publishers Description:
As Private investigator Jack Walters, the player is sent to the little town of Innsmouth to look into a missing person case. He will soon understand that several persons are missing and that the town hides terrible secrets. His adventure will lead him to face terrifying situations and hideous adversaries. Not only will the player have to keep Jack Walters alive, he will also have to preserve the detective from going insane if he wants to uncover the mysteries of the Great Old Ones.
Set during the 1920s, Call of Cthulhu: Dark Corners of the Earth is based on the Cthulhu Mythos inspired by the writings of H.P. Lovecraft, an American fantasy and horror writer. Lovecraft, whose work has profoundly influenced numerous fantasy and science fiction writers including Stephen King and Anne Rice, tells stories of unthinkable evil, psychic possession and mythical worlds. The game's technology enables Call of Cthulhu: Dark Corners of the Earth to be presented as an incredibly detailed and accurate depiction of the sights and sounds of this unique 1920's setting inspired by the Cthulhu Mythos. A diverse range of cutting-edge special effects is utilized to ensure both unprecedented levels of realism and a thorough portrayal of the character's mental degradation.
Features:
• Fight enemies using the environment, powerful and evil artifacts, Alien technology, and authentic weapons.
• Dynamic Sanity system results in hallucinations, panic attacks, vertigo, paranoia, and more!
• Advanced AI system enables enemies to roam freely – opening doors and tracking you down single-handedly or in groups.
• Experience Unparalleled Survival Horror Action and suspense involving puzzle solving as well as combat and exploration
• Experience an incredibly immersive gaming environment with no interface or 'HUD' on screen at any time during normal gameplay, realistic combat and an advanced AI system.
• Experience the horror of H.P. Lovecraft's Cthulhu Mythos (Lovecraft's famous monsters and locations)
• Diverse array of levels from quaint towns to alien locations, including Deep One City 1920s weaponry and vehicles as well as evil artifacts and alien technology
• Incredibly detailed real-time graphics with atmospheric lighting and dynamic shadows
---
Topic Subscription
Registered users can 'subscribe' to this group and receive an email whenever a news article is added that contains the tag 'Call of Cthulhu: Dark Corners of the Earth'.
This functionality is pretty much the same as watching a forum thread and can be disabled at any time.
---