Tom Clancy's Rainbow 6: Patriots
About

News

Updates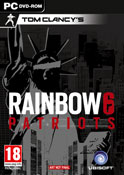 Why not
subscribe for updates
and get an email when any news is added on this subject?
Release Date:
2013
Developer:
Ubisoft Montreal
Publisher:
Ubisoft
Platform:
PC, Xbox 360 & Playstation 3
Official Site:
http://www.rainbow6.com/
Publishers Description:
In Tom Clancy's Rainbow 6 Patriots, Team Rainbow faces a new and very real threat called the "True Patriots," a highly-trained, well-organized revolutionary group that claim the American government is irrevocably corrupted by greedy politicians and corporate special interests. The True Patriots will do whatever it takes to reclaim their country. Playing as Rainbow, players will face critical scenarios that will require them to make tough ethical decisions in order to stop this new breed of terrorists.
In addition to the immersive single-player storyline, Tom Clancy's Rainbow 6 Patriots will introduce a huge variety of new innovative co-op and multi-player experiences. Players will be rewarded for working as a team and mastering the game's new features that enhance communication and tactical execution between teammates. Success will come from a mix of split-second decision making and working to coordinate attacks against the enemy.
---
Topic Subscription
Registered users can 'subscribe' to this group and receive an email whenever a news article is added that contains the tag 'Tom Clancy's Rainbow 6: Patriots'.
This functionality is pretty much the same as watching a forum thread and can be disabled at any time.
---