F1 2011
About

News

Updates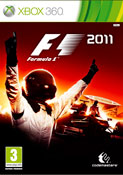 Why not
subscribe for updates
and get an email when any news is added on this subject?
Release Date:
September 23rd, 2011
Developer:
Codemasters
Publisher:
Codemasters
Platform:
PC, Xbox 360 & Playstation 3
Publishers Description:
In F1 2011 players will be challenged to 'Be the driver, live the life, go compete', with wide-ranging technical and gameplay advancements on and off track and vastly extended competitive and co-operative multiplayer components. F1 2011 will feature all of the official teams, drivers and circuits from the highly anticipated 2011 FIA FORMULA ONE WORLD CHAMPIONSHIP, including the current FIA FORMULA ONE Drivers' World Champion Sebastian Vettel. The 2011 season also sees the debut of the 2011 FORMULA 1 GRAND PRIX OF INDIA at Delhi's Jaypee International Race Circuit and the return of the iconic Nürburgring to the calendar.
---
Topic Subscription
Registered users can 'subscribe' to this group and receive an email whenever a news article is added that contains the tag 'F1 2011'.
This functionality is pretty much the same as watching a forum thread and can be disabled at any time.
---