LEGO Pirates of the Caribbean
About

News

Updates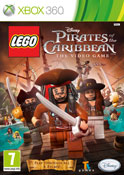 Why not
subscribe for updates
and get an email when any news is added on this subject?
Release Date:
May 2011
Developer:
TT Games
Publisher:
Disney
Platform:
3DS, DS, PC, PS3, PSP, Wii & Xbox 360
Publishers Description:
LEGO Pirates of the Caribbean: The Video Game is an action adventure game bringing to life the Pirates of the Caribbean world and all its colourful characters in LEGO brick form.  Players will experience all the memorable scenes from the first three films, as well as those in the upcoming fourth film, "Pirates of the Caribbean: On Stranger Tides," in the humorous and quirky LEGO video games style.
Key FeaturesExploration
– Players will explore familiar locations filled with interactive LEGO objects and encounter more than 70 memorable and new characters while making their way through more than 20 levels
Combat
– The LEGO Caribbean is full of danger! Intense sword fighting moves give the LEGO minifigure a brand new pirate flavor
Unforgettable Cut Scenes
– Everyone's favorite scenes from the Pirates of the Caribbean films are re-rendered with LEGO minifigures, in the humorous style synonymous with LEGO video games
Puzzles
– Players will need all their pirate cunning to find the hidden LEGO treasures and discover the game's many secrets
Two-Player Co-op
– Players can join a friend or family member in the same room for two-player "drop-in/drop-out" cooperative action
Freeplay
– Building a collection of characters throughout the game, players can then use their distinctive abilities to gain access to previously unavailable areas
---
Topic Subscription
Registered users can 'subscribe' to this group and receive an email whenever a news article is added that contains the tag 'LEGO Pirates of the Caribbean'.
This functionality is pretty much the same as watching a forum thread and can be disabled at any time.
---