MindJack
About

News

Updates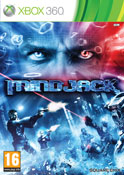 Why not
subscribe for updates
and get an email when any news is added on this subject?
Release Date:
January 21st, 2011
Developer:
feelplus inc.
Publisher:
Square Enix
Platform:
Xbox 360 & Playstation 3
Publishers Description:
A new era. Sophisticated and complex technologies are now contributing to the advancements of mankind. However, the world's governments are crumbling, new corrupt powers arise and conspiracies proliferate. The truth behind the proscribed technology could destroy the very core of humanity. Join a rogue team of agents as they fight for survival and entangle themselves deeper into the mystery.
MINDJACK offers a unique online experience. Enter a revolutionary playing field upon which an engaging solo campaign transitions seamlessly to thrilling cooperative play. Expand your mind's reach by "hacking" into enemies, vehicles or civilians and enjoy the freedom to control almost any character. Each bystander becomes an active combatant in this new urban warfare.
Your "state of mind" is your only limitation!
Features
* Assume the role of a Mind Hacker hacking into and controlling the minds of enemies to turn the tide of battle.
* Aquire XP to expand your hacker's Arts abilities. Increase a character's strength or improve your hit-rate – players can strategize according to their combat style.
* Hack or be hacked! Players can slowly alter their gaming universe – or have it altered by other online players – one hack at a time.
* Utilize futuristic weapons and real fighting techniques, like Krav Maga, in your virtual playground.
---
Topic Subscription
Registered users can 'subscribe' to this group and receive an email whenever a news article is added that contains the tag 'MindJack'.
This functionality is pretty much the same as watching a forum thread and can be disabled at any time.
---