Torchlight
About

Articles

Updates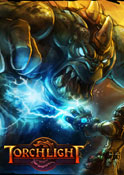 Why not
subscribe for updates
and get an email when any news is added on this subject?
Release Date:
October 27th, 2009 (Online)
Developer:
Runic Games, Inc.
Publisher:
Runic Games, Inc.
Platform:
PC
Official Site:
http://www.torchlightgame.com/
Publishers Description:
Behold Torchlight, a fresh new Action RPG franchise developed by Runic Games. Torchlight is being developed in Seattle by a veteran team composed of the designers and leads of projects like Diablo, Diablo II, Mythos, and Fate. Our team has spent many years honing and evolving this unique style of gameplay.
The adventure is set in the mining settlement of Torchlight, a boomtown founded on the discovery of rich veins of Ember - a rare and mysterious ore with the power to enchant or corrupt all that it contacts. This corruptive power may have dire consequences however, and players set out into the nearby mountains and depths below to discover the full extent of Ember's influence on the civilizations that have come before.
Runic Games will initially release Torchlight as a standalone Single Player game, Torchlight will be released in the latter part of 2009 as a download or in box. Following the single player release, work will commence on a fully-featured MMO version.
---
Topic Subscription
Registered users can 'subscribe' to this group and receive an email whenever a news article is added that contains the tag 'Torchlight'.
This functionality is pretty much the same as watching a forum thread and can be disabled at any time.
---