MX vs ATV Reflex
About

News

Updates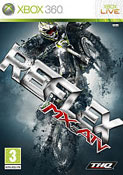 Why not
subscribe for updates
and get an email when any news is added on this subject?
Release Date:
February 5th, 2010
Developer:
Rainbow Studios
Publisher:
THQ
Platform:
Xbox 360 & Playstation 3 (Also DS and PSP)
Official Site:
http://www.mxvsatv.com
Publishers Description:
MX vs. ATV Reflex marks the highly anticipated return of the best-selling off-road racing franchise and features the all-new Rhythm Racing 2.0 physics engine, Rider Reflex control system and real-time terrain deformation. The Rider Reflex control system provides unparalleled precision and fluidity by separating machine steering from body positioning, which allows the independently controlled rider to shift his weight, perform death-defying stunts and avoid potentially devastating wrecks. Unprecedented terrain deformation creates ever-changing courses as off-road vehicles carve lines and deep ruts that have a real-time impact on gameplay and remain persistent through the full length of each race.
---
Topic Subscription
Registered users can 'subscribe' to this group and receive an email whenever a news article is added that contains the tag 'MX vs ATV Reflex'.
This functionality is pretty much the same as watching a forum thread and can be disabled at any time.
---