MAG
About

News

Updates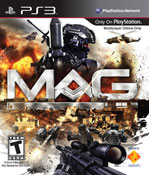 Why not
subscribe for updates
and get an email when any news is added on this subject?
Release Date:
January 26th, 2010
Developer:
Zipper Interactive
Publisher:
Sony
Platform:
PlayStation 3
Publishers Description:
The year is 2025. The optimism and harmony of the 2010s were completely eradicated by 2020. A global crisis loomed. Food shortages sparked riots, currencies plummeted, fuel reserves dwindled, and oil-producing nations began to ration what remained. It is a dark future. Governments earmarked money for humanitarian efforts, overseas security, and intelligence services which, over time, found its way the coffers of a small group of Private Military Corporations (PMCs). These three private armies (Valor, Raven, and S.V.E.R.) then began to recruit aggressively. Soldiers without a country, the contractors fight wars that never happened. This is the nature of the Shadow War.
From the award-winning developer, Zipper Interactive, comes the next evolution in gaming – MAG. A first-person, online-only shooter, MAG lets you experience battles with up to 256 real people across a global battlefield. Players join one of three PMCs fighting each other in a shadow war and can either become skilled operatives or rank up to eventually command their private army to victory. Featuring unprecedented online action of a scale never before devised with player controlled strategic assets such as calling in air strikes, mortar barrages and parachute insertions; the persistent Shadow War in MAG keeps players coming back for more.
Utilizing a sophisticated ranking system and chain of command model, MAG manages the large number of players by breaking them down into squads of eight players. Players climb their way up the chain of command to take control of their 8-person squad, then 32-person platoon, and ultimately a 128-person army.
KEY FEATURES
•
Unprecedented Action
– For the first time ever, fight 256 real player battles in hi-def online combat for contracts around the world.
•
Command Structure
– Rise through the chain of command, earning the right to lead an eight-man squad, 32-man platoon, and even command a full 128-man army.
•
Persistent Shadow War
– Each battle victory or loss contributes to your PMCs world standing, moving them on the offensive or pulling them back to the defensive.
•
Choose an army
– Three distinct PMCs from which to choose from, each with their own history, personality, and style.
•
Customization
– Customize your character and begin to pursue a wide variety of combat specialties.
---
Topic Subscription
Registered users can 'subscribe' to this group and receive an email whenever a news article is added that contains the tag 'MAG'.
This functionality is pretty much the same as watching a forum thread and can be disabled at any time.
---