Achtung Panzer: Kharkov 1943
About

News

Updates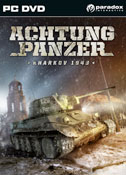 Why not
subscribe for updates
and get an email when any news is added on this subject?
Release Date:
Q1 2010
Publisher:
Paradox Interactive
Platform:
PC
Official Site:
http://www.paradoxplaza.com/index.php?option=com_content&task=view&id=661&Itemid=
Publishers Description:
Featuring a masterful reconstruction of the battlefront setting of Kharkov, players will engage in unique combat that offers the highest level of authenticity. With the incorporation of highly flexible AI, players will have the opportunity to choose new strategies based on opponent behavior with every new round of gameplay. The inclusion of realistic missile trajectories and destructible environments is set to keep all army commanders hanging on the balance of the historic struggle. Achtung Panzer: Kharkov 1943 delivers a thorough recreation of the battle with precisely detailed soldier units, weapons, artillery units and vehicles based on actual military archive materials and WWII chronicles.
Achtung Panzer: Kharkov 1943 Features:
• 6 scenarios taking place in 1943 during Kharkov Defense Operation
• 2 playable opposing forces: USSR army and Wehrmacht
• Play as up to 250 soldiers and officers and up to 40 vehicles in each tactical battle
• Detailed, destructible environments
• 87 unit types: infantry, artillery, support vehicles, battletanks and aviation units
• More than 40 carefully reconstructed weapons and vehicles of WWII armies
• 2 control modes: turn-based strategic mode and real-time tactic mode
---
Topic Subscription
Registered users can 'subscribe' to this group and receive an email whenever a news article is added that contains the tag 'Achtung Panzer: Kharkov 1943'.
This functionality is pretty much the same as watching a forum thread and can be disabled at any time.
---