Ceville
About

Articles

Updates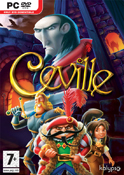 Why not
subscribe for updates
and get an email when any news is added on this subject?
Release Date:
February 27th, 2009
Developer:
Boxed Dreams
Publisher:
Kalypso Media
Platform:
PC
Official Site:
http://www.ceville-game.com/
Publishers Description:
In Ceville – the humorous and engrossing point and click adventure from Kalypso Media - you assume the role of tiny tyrant Ceville. When he's not puzzling his way through the world of Faeryanis, he's guaranteed to be found holding hilarious conversations with one of the more than 30 different inhabitants of his former realm. Later in the game Ceville is joined by two other characters which the player also controls, either one after the other or as a team. With the logical combination or use of objects players won't be able to stop grinning or laughing out loud as they puzzle their way through an epic story of the eternal war between "Evil" and... "really, really terribly Evil"!
---
| | | | |
| --- | --- | --- | --- |
| Article | By | Published Date | Platform |
| Ceville Review | Andy Hemphill | 16-Mar-09 | PC |
---
Topic Subscription
Registered users can 'subscribe' to this group and receive an email whenever a news article is added that contains the tag 'Ceville'.
This functionality is pretty much the same as watching a forum thread and can be disabled at any time.
---