Halo 3: Recon
About

News

Updates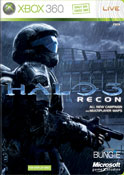 Why not
subscribe for updates
and get an email when any news is added on this subject?
Release Date:
Autumn 2009
Developer:
Bungie
Publisher:
Microsoft Game Studios
Platform:
Xbox 360
Publishers Description:
The new campaign chapter predates the events that unfold in "Halo 3" and gives players a new perspective through the eyes of a new hero in the "Halo" universe. New multiplayer maps ensure that the award-winning Xbox LIVE experience of "Halo 3" continues to thrive.
Features:
Top features include the following:
• All-new campaign content.
The "Halo 3: Recon" campaign is an intriguing side story that takes place during the terrifying events leading up to the Master Chief's return to New Mombasa in "Halo 3." Experience the fate of Earth from the brand-new perspective of a special forces ODST (Orbital Drop Shock Trooper), adding a unique outlook and new gameplay elements to the events that unfold in the trilogy's finale. While the feel of this new chapter will greatly resemble that of previous "Halo" experiences, "Halo 3: Recon" will require players to employ more elements of stealth and cunning than ever before.
• A new hero: Prepare to drop.
Known for their courage, valor and, at times, insanity, ODSTs are among the fiercest UNSC soldiers, priding themselves on being the first unit deployed into hostile situations. While not as large or supernaturally gifted as their Spartan comrades, these "Hell Jumpers" more than compensate with their ferocious attitudes and unwavering nerve.
• Expanded multiplayer collection.
No "Halo" experience would be complete without groundbreaking multiplayer content,* and "Halo 3: Recon" gives fans more of what they love. With exclusive new maps and full Forge options, players will find more multiplayer content than ever before with "Halo 3: Recon."
• Ever-growing community options.
Players will continue to enjoy all the great "Halo 3" technological innovations, including Saved Films, screenshots, Campaign Scoring and four-player co-op. All of the new multiplayer maps fully support the Forge editor, offering endless gameplay customization possibilities for fans.
---
Topic Subscription
Registered users can 'subscribe' to this group and receive an email whenever a news article is added that contains the tag 'Halo 3: Recon'.
This functionality is pretty much the same as watching a forum thread and can be disabled at any time.
---