Nostradamus: The Last Prophecy
About

Articles

Updates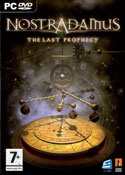 Why not
subscribe for updates
and get an email when any news is added on this subject?
Release Date:
September 8th, 2008
Developer:
Kheops Studio, TOTM Studio and Mzone Studio
Publisher:
Lighthouse Interactive
Platform:
PC
Publishers Description:
March 1566 - Salon de Provence, France
It has been three years since Catherine de Médicis' rule as regent came to an end, but she still holds the reins of power, making her the target of repeated attacks from the French nobility. One day in March 1566, when she realises that she has fallen victim to a terrible curse, she turns to her doctor and astrologer, Michel de Nostre-Dame, better known as Nostradamus.
Unfortunately, the famous prophet is too old and weak to take on such a mission alone. Refusing to abandon his Queen in her hour of need, he sends his daughter Madeleine in his place. However, there is no such thing as female astrologers, let alone female doctors in medieval times. To be accepted as such, the young woman must go in disguise and assume her younger brother César's identity.
Alternating between Madeleine the young woman, and Madeleine disguised as César, players are plunged into a thrilling adventure where political scheming and ancestral prophecies are intertwined. The game begins as an initiatory adventure in the footsteps of her father Nostradamus, and transitions into a suspenseful test-riddled forensic investigation as you are faced with one murder after another.
FEATURES
• The first-ever game based on the life and works of Nostradamus
• Defeat the last prophecy of the great astrologer Nostradamus and change the course of history!
• Become a criminal profiler centuries in advance as you investigate a series of murders perilously linked to the royal family
• Play as 2 different characters throughout this thrilling adventure
• Unravel a series of Machiavellian riddles and puzzles based not just on astrology, but also alchemy, apothecary and ancient runes
• Delve into Renaissance Provence and discover rich photorealistic environments faithfully recreated to reflect the time of Nostradamus
• From the creators of best-selling adventure series: Atlantis, Egypt, Versailles and The Secrets of Da Vinci
---
Topic Subscription
Registered users can 'subscribe' to this group and receive an email whenever a news article is added that contains the tag 'Nostradamus: The Last Prophecy'.
This functionality is pretty much the same as watching a forum thread and can be disabled at any time.
---