Dishonored Review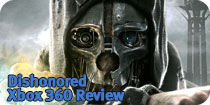 Corvo's powers allow him to teleport short distances, climb to the roofs of tall buildings, possess rats, fish and humans, summon swarms of man-eating rodents, pause time and more. As with Deus Ex and Thief, you'll never be able to upgrade all the powers, so choosing the ones that match your particular play style is key.

More about Dishonored
Comments
Segfault

Posts: 3

Rank:




04 January 2013 22:07



Why not register and have your say?