UFC Undisputed 3 Review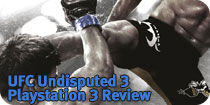 Yes, it's time for another instalment of big, beefy guys pinning each other on mats while wearing skimpy shorts.
No, it's not what you think - and if you were thinking it, don't be surprised if one of these muscled monsters kicks your head off for fun - this is the Ultimate Fighting Championship, back once again for its annual outing to the Octagon.

More about UFC Undisputed 3
Why not register and have your say?