Need for Speed The Run Review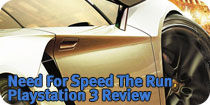 Sitting the gamer in the driving britches of street racer Jack Rourke, The Run tasks the gamer with racing from New York to San Francisco, taking on opponents, natural disasters and mafia hitmen on the way. Jack, you see, has got himself in deep with the mob, and the only way he can buy his way out is to make The Run - and get away with the cash prize. And that's basically it for the plot.

More about Need for Speed The Run
Why not register and have your say?