Assassin's Creed Revelations Review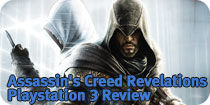 The gameplay itself will be instantly familiar to anyone whose played any of the mainstream Assassin's Creed games. The basic formula is unchanged from the previous titles - shimmy across rooftops, free-running all over, assassinating people or engaging in massive, open swordfights against dozens of enemies.

More about Assassin's Creed Revelations
Why not register and have your say?