Battlefield 3 Xbox 360 Review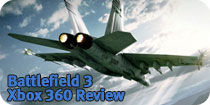 The formula is incredibly simple - space and freedom. The space to go where you want, approach targets how you want - or fly a jet headfirst into a building full of enemies. The freedom to play how you want, be alone or with friends, to sneak or charge - it's up to you. It's a formula that DICE and EA have perfected in Battlefield 3 - this is the sort of game that you can lose hours to - and never get bored.

More about Battlefield 3
Comments
Mani

Posts: 6957

Rank:




17 November 2011 13:29



Abstract

Posts: 753

Rank:




17 November 2011 21:29



Maz

Posts: 2093

Rank:




26 November 2011 23:27



Why not register and have your say?