TrackMania 2 Canyon Review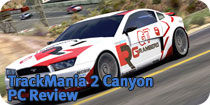 Building upon the venerable roots of the series, TM2 offers another plentiful helping of time trial madness, tasking the player with running the gauntlet down a huge number of gravity-defying, thrill-a-minute tracks, always chasing that elusive half-second that divides you from your friends. And although you're not directly racing said friend (which is a shame, admittedly) the constant challenge presented by the persistent leader-board and constantly evolving track selection will keep hardened racers going for hours.

More about TrackMania 2 Canyon
Comments
hobgoblin

Posts: 974

Rank:




28 October 2011 06:53



Negotiator

Posts: 548

Rank:




28 October 2011 15:57



Why not register and have your say?