Deus Ex Human Revolution Review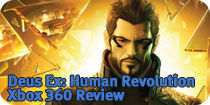 Naturally, me being the stealthy, silenced pistol-type player, I chose the stealth enhancement pack, and the 'glass shield' cloaking system -heavy on the batteries, but ideal for staying unnoticed. Deciding how to tackle what's put in front of you is the core aspect of HR, and every objective you're tasked with can be solved in any number of ways.

More about Deus Ex Human Revolution
Comments
Bri

Posts: 241

Rank:




24 September 2011 10:47



Why not register and have your say?