Red Faction: Armageddon Review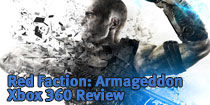 I've been a long-time Red Faction fan. I fondly remember toppling Ultor Corporation as the leader of the Red Faction, Parker, in the first title, and went on to play each of the games in sequence as the grand tale of Mars' fight for survival continued.

More about Red Faction: Armageddon
Why not register and have your say?