Duke Nukem Forever Review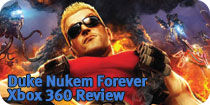 If the Duke Nukem theme tune started playing in your mind at the mere mention of the King, then you'll have been waiting for Duke Nukem Forever for about, oh, 15 years, right? I know I have been. I've been waiting forever to get my hands on Duke Nukem Forever. And after all this time, after being stuck in development hell for a decade or more, after being passed from developer to developer for time immemorial, what have the fanbase been handed?

More about Duke Nukem Forever
Why not register and have your say?