L.A. Noire Review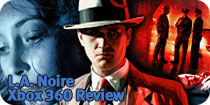 It's so rare, these days, to find a game which really pushes the boat out, which tries something new - LA Noir is one of those games, it delivers something I've never encountered before in a videogame - a detective novel which isn't built around a point-and-click adventure. And its bloody good fun too.

More about L.A. Noire
Why not register and have your say?