MX vs. ATV Alive Review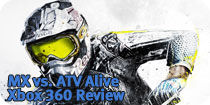 Outside of the racing, the game's free-roam areas offer an interesting variety of environments to hurtle around, trying to pull of stunts, finding hidden vehicles and generally ripping up the sand - but that's about it. Seems to me a couple of party game modes wouldn't of gone amiss in here, slalom, or battling for the most stunt points in ten minutes - it's just a little half-cocked.

More about MX vs. ATV Alive
Why not register and have your say?