Shogun 2: Total War Review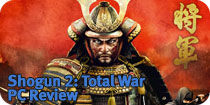 It's annoying then that riots, taxes, battles, diplomacy, ninjas, enemy fleets, inclement weather and angry wives stand in your way - such is the burden of the Shogunate. The game itself will be instantly familiar to Total War regulars, but handily includes an in-depth tutorial for those new to the series.

More about Shogun 2: Total War
Why not register and have your say?