Homefront Review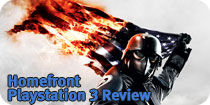 Campaign wise, the terribly short blast takes just under five hours, and is a pretty fun ride, despite how familiar it seems. Fighting on US soil is hardly a new experience, but despite the Red Dawn overtones, the game's story is believable - and backed up with a pretty snazzy opening video, mashed together from news reports and global conspiracy.

More about Homefront
Why not register and have your say?