Dragon Age 2 Review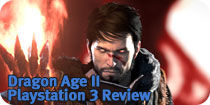 I'm a BioWare fan, undoubtedly. From the brilliance of Mass Effect to the twisted tale of Knights of the Old Republic, the venerable developers can do no wrong. So when I say that I wish they'd spent a little more time on Dragon Age 2, you know how disappointed I am.

More about Dragon Age 2
Comments
Bri

Posts: 241

Rank:




22 March 2011 22:14



Bandit

Posts: 530

Rank:




22 March 2011 23:20



Why not register and have your say?